78 years of the inner you.
Gancedo is the leader in soft furnishings. Since 1945, we have designed, produced, manufactured and marketed fabrics, wallpapers, rugs, curtains and much more. And they all serve to weave unique relationships between more and more people and the spaces where their lives unfold.
Together with our clients, we create spaces that tell your stories, convey emotions, beget unique environments and foster a profound meaning. Each project is an opportunity to discover a new style, to create a new idea, a unique combination in tune with your personality. We're here to help the inner creator in you, even if you've never gone through a similar process. Gancedo is your means of expression, your toolbox, your colour palette, your source of inspiration. An unassailable benchmark of quality.

Professionals see in us a trustworthy partner who can help take their ideas forward. Over the course of the last 78 years, we've worked alongside architects, interior designers and designers, on small- and large-scale turnkey projects all over the world. Today, Gancedo continues to grow with a clear vision of international expansion.
Design and production with great pride.
We create our own designs and work with some of the most influential creative minds on the contemporary scene. We manufacture in our factory, where we keep our enthralling profession and our zeal for things well done alive. We proudly treasure the craftsmanship and know-how which endow each piece with a unique value. Meticulous manufacturing, the fruit of total control and a direct relationship with each stage of the process.

The legacy of three generations stitched into our fabrics..
In 1945, in Barcelona, José Gancedo Otero and his brother Bernardo founded much more than a soft furnishings store. They inaugurated a culture of service, quality and passion for design which is still with us today. Just five years later, Pepe Gancedo, the son of the founder, would open the company's second store on Calle Recoletos in Madrid. In the second half of the century, work well done led to national growth. Not only commercial, but also creative: in 1969 the brand was to create its own fabric design workshop. Gancedo began to launch its own collections each season. Working in tandem with great contemporary artists: Modest Cuixart, Gerardo Rueda, Gustavo Torner and Aurelia Muñoz.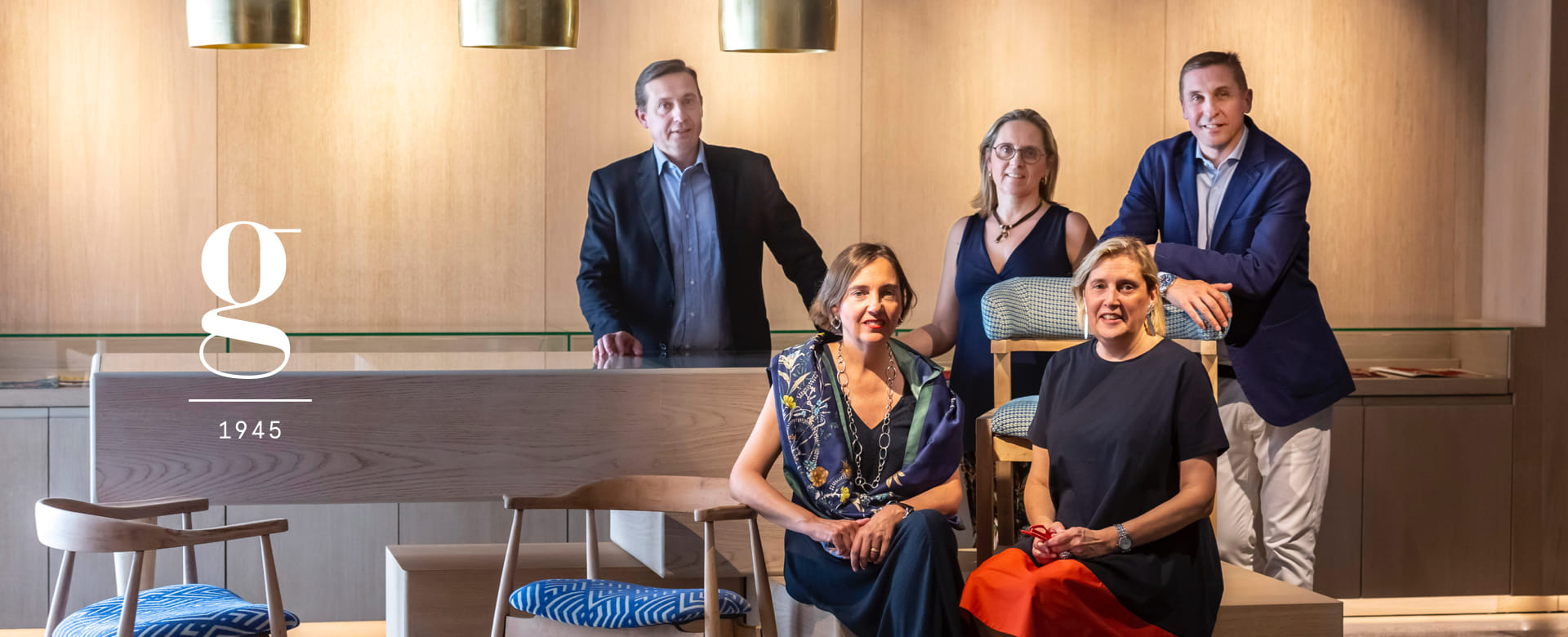 Today, the third generation of the family heads up the brand with the same creative, innovative, entrepreneurial spirit. Taking the Gancedo experience to new international markets, with an established presence in Latin America. Undertaking large-scale international projects. Expanding their ecosystem of relationships at the highest levels of international design.