Let's continue our review of fabrics and prints which are ideal for adding a delightful, cosy wintertime touch to our homes with the latest ideas from some of the international brands supplied by Gancedo: Morris & Co., Sanderson and Voyage.
While a few days ago we focussed on different prints in a wide range of colour schemes, featuring wildlife and floral motifs, as well as the unrivalled winter classic, tartan, on this occasion we're unveiling a new take on traditional ideas with new patterns and on-trend shades to suit every type of décor. Let's take a closer look.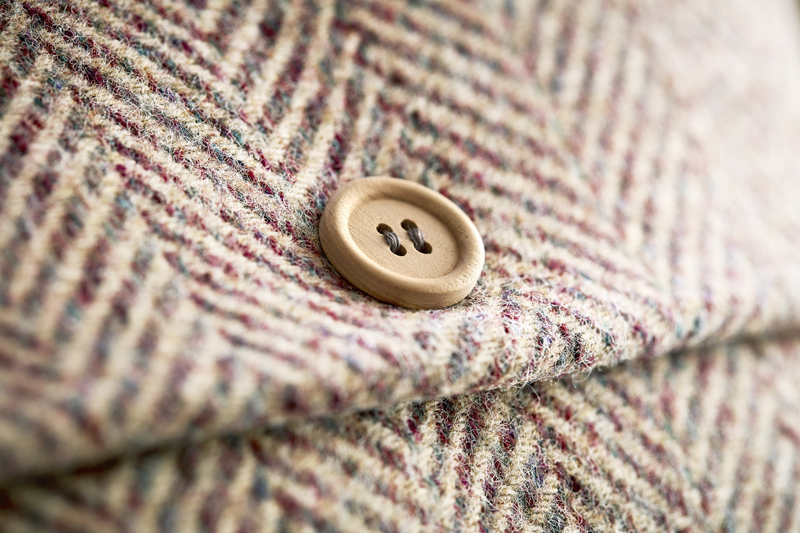 Tweed, herringbones and embroidery
There are fabrics which can always be relied upon to make us feel as though we're snuggly wrapped up in a cosy place. By this we mean traditional tailoring fabrics which, when used in upholstery, help us to create a lovely, warm, comfortable feeling.
One of these patterns is "Hector" from Sanderson's Elysian Collection above these lines. This is a pure wool herringbone weave which you can find in six different colours.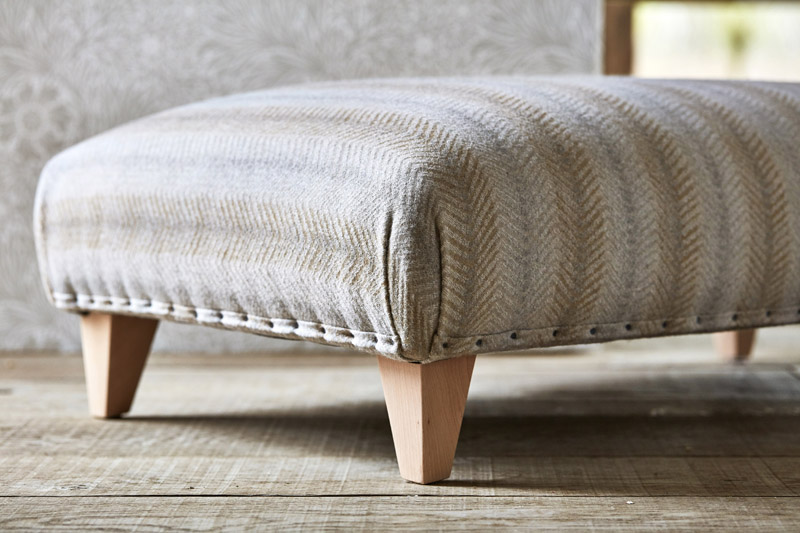 In its Pure Morris Kindred Weaves collection, Morris & Co suggest Pure Hekla Wool, another herringbone weave in wool available in two different colours: Nube Gris (Grey Cloud) and Lino (Linen). The perfect example of how familiar old fabrics can be adapted for use in contemporary décor. Wouldn't you put this ottoman in a Scandinavian style interior?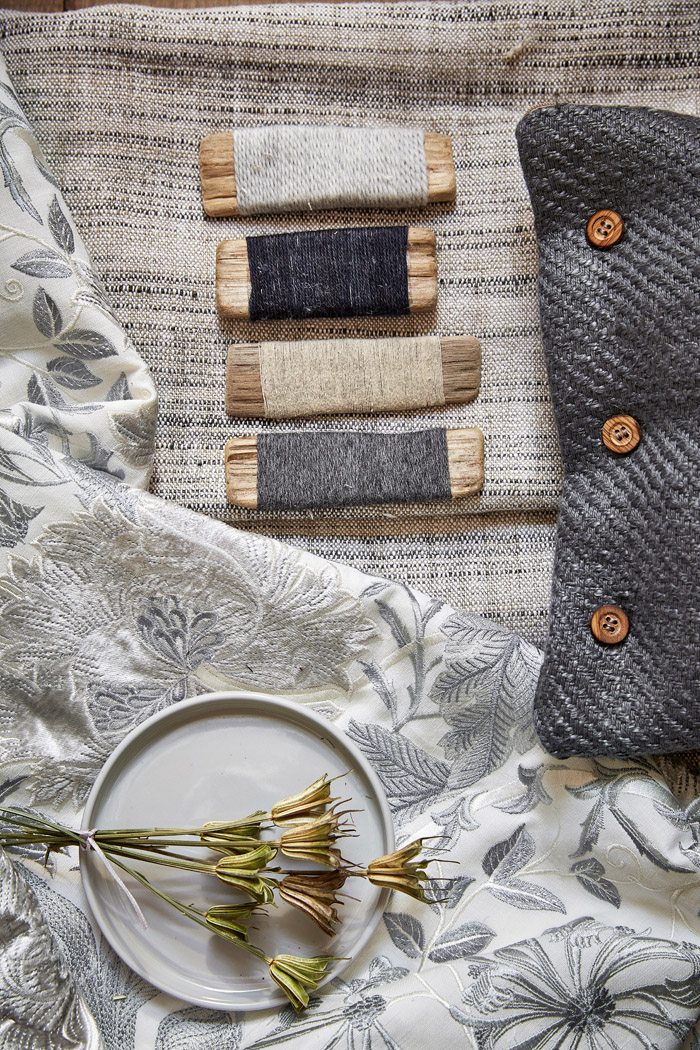 Pure Morris North, from Morris & Co, is an impressive collection of embroidered cloths, prints and fabrics manufactured using the very best in materials and printing and embroidery techniques.
This house has deftly reinterpreted some of its signature patterns, inspired by William Morris's journals from his 1871 expedition, capturing everything from the colours to the Nordic feel of the natural world. Pure Morris North comprises six embroidered fabrics, five prints and two weaves where historic patterns and intricate decoration join forces with the best printing techniques to evoke Icelandic scenery and culture.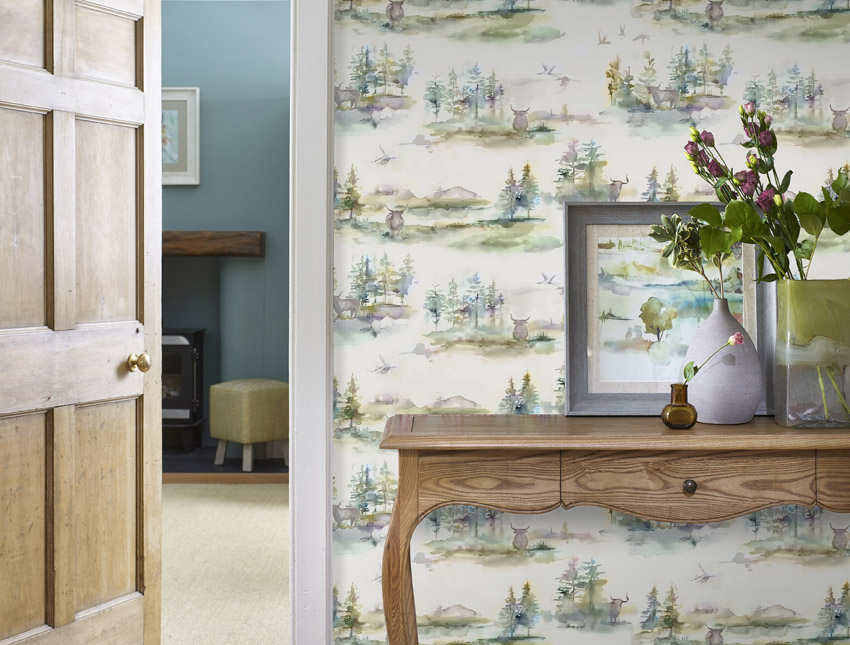 Landscapes and countryside scenes
What is it about woodland scenes that whisks us away to a fairytale setting? Have a think about refurbishing any room in your house by covering at least one wall with a wallpaper which will lend this special, magical touch to the décor.
The Voyage brand suggests Caledonian Forest wallpaper from their new Wilderness collection; a wonderful woodland featuring tree silhouettes which lend depth and character to the enchanting composition. You will find it in two different colours.
As for the colour range, it's true that warm tones help us create a cosier atmosphere during the winter months, but this doesn't mean that we have to give up on the cold colour palette, colours which are not only easy to mix and match but will also add a touch of elegance and sophistication to the décor: turquoises, greens, purples… They're also perfect for wintertime!
The Wilderness wallpaper collection by Voyage includes ten different patterns in a wide range of colours.
Floral and foliage motifs
Who says that flowers are only for summer? It's true that, when spring arrives, we like to fill our homes with bright, cheerfully-coloured flowers, but in the autumn-winter season there's no reason why we shouldn't use this print. As long as we choose patterns in more appropriate shades: greens, blues, whites, browns, greys…Go for a palette redolent of wintertime.
Recently, Morris & Co presented its Pure Morris North collection, which includes the fabric above these lines, Pure Honeysuckle and Tulip Embroidery, tulips embroidered on a linen, viscose and cotton blend.
At Gancedo we know that for you, your home is unique. It's the place where you feel more comfortable and snug than anywhere else, and as you can see, fabrics are the best resource for creating and fostering this feeling of comfort, playing their part in warm wintertime décor.
The cushions above these lines are made up in various patterns from the Morris & Co Pure Morris North Collection.