Just as colourful animals, fruits and palm trees convey vitality and optimism, and inevitably make us think of summer, there are prints and colour schemes that transport us to warm, secluded environments, safe from the low temperatures typical of winter. It's time to put away cool, lightweight summer season fabrics and replace them with nice warm woollens and weaves. 
At Gancedo we are more than ready for this new season with a wide variety of winter fabrics and prints. Amongst these are the very latest ideas brought forward by some international brands for whom we are the suppliers. This is just a small sample.
Wild Animals
We're discarding tropical décor with its flamingos and toucans and bringing a little bit of mountain wildlife into our homes with textiles and wallpapers patterned with roe deer, red deer, bucks, foxes…
The wallpaper in the first picture is "Evesham Deer", from Sanderson's new "Elysian" collection: an elegant, majestic design which will fill any spot in your home with character and personality. You will also find textiles with the same pattern.
The Voyage brand has just presented its "Wilderness" collection, featured on the cushions in the second picture, perfectly encapsulating that call of the wild. These fabrics are perfect for subtly bringing a warm, natural atmosphere alive.
Birdlife
Birdlife has always been one of the classic fabric and wallpaper motifs: from humming birds and quails to sparrows and blackbirds, not to mention ducks and geese. We find these patterns in fabrics and wallpapers perfect for every type of decor, the exotic as well as the rustic. Pattern and colour palette will indicate with which style they are best matched.
Ducks in full flight take the leading role on the fabric "Geese" from Sanderson's Elysian Collection, used in the first picture to make a blind. In a 90% cotton,10% linen blend, and a width of 140 cm, it is available in three different colours. There is also a matching wallpaper.
If you prefer something more understated, the Voyage brand offers us "Chaffinch" fabric, with delicate little birds in a watercolour effect on a neutral background. It comes in a 95% cotton, 5% linen blend and a width of 140 cm. It is available in two different colours, both nice and light.
Tartán
If there is one fabric which can create a warm, comfortable atmosphere, it has to be tartan or Scottish check. Besides which, it's one of this season's top trends, both for soft furnishings and on the catwalk and in street style. This fabric, which became popular in Scotland in the 17th and 18th centuries, is made with differently coloured yarns which repeat a checked pattern.
"Bryndle Check" from Sanderson's "Islay Wools" collection above these lines is a classic which is perfect for contemporary décor. It is manufactured in wool and you will find it in four different colour combinations.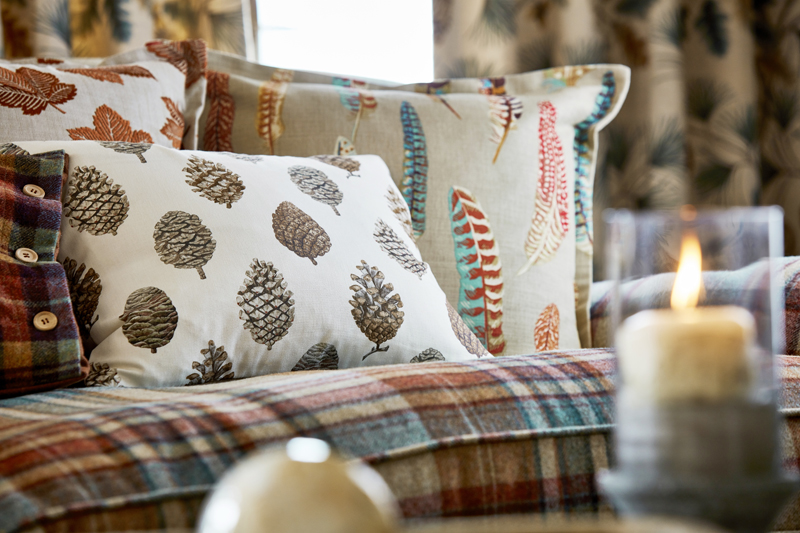 Pine cones, leaves and feathers
Autumn is the season of falling pine cones and leaves as well as of moulting feathers, which is why we associate these motifs with winter décor. In Sanderson's Elysian collection "Pine Codes", "Flannery" and "Lismore" are the fabrics which you will find featuring this type of pattern.
"Pine Codes" is decorated with a variety of open and closed pine cones which have been hand painted and printed on cotton creating a perfect medium-scale pattern, ideal for small windows and country cottages.
In "Flannery", delicate, elegant maple leaves edged with a fine, glossy viscose yarn stand out against a neutral background. Perfect for adding a touch of glamour to your home.
An elegant ensemble of partridge feathers adorns "Lismore", a linen, cotton and nylon blend suitable for curtains and upholstery.
So many exciting new ideas in winter fabrics and wallpapers – all absolutely wonderful – have arrived at Gancedo that, even after carefully narrowing down our selection, we'll be presenting it to you in two parts. This has been part one. To be continued…