Braids, fringes, tassels, gimps… trimmings have come back in force to home décor. This ornamentation hasn't just modernize itself to adapt to all kinds of interior design, but it also allows for personalization of endless decorative objects, from chairs and armchairs to cushions, curtains, blinds and lampshades. They offer endless possibilities!
Trimmings, maybe because they were done in silk and other rich, sumptuous fabrics in yesteryear, have always been associated with classic décor, in which it was easy to find furniture upholstered and curtains or lampshades finished with trimmings. But times change, textile companies embrace modernity and here at Gancedo we will show you that trimmings are bang up to date.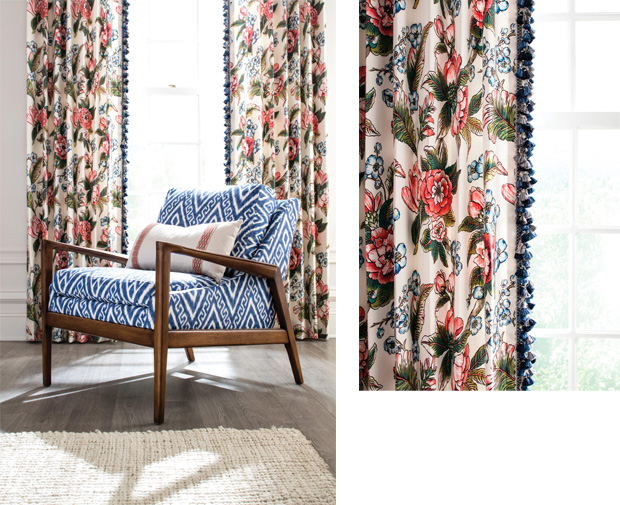 Curtains finished with fringes
What a fantastic idea to bring a bit of style to curtains: finishing them with a line of fringes. These curtains are made with fabric from the Jaclyn Smith IV collection by Fabricut, one of our international firms. Without a doubt, a perfect example of how fringes are able to enhance any fabric and make it more attractive and modern.
The fringes are formed by a head that is attached to the target surface and from which fine tassels or complements hang.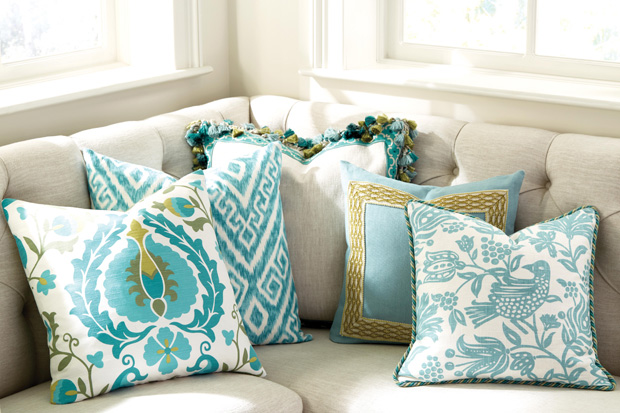 Cushions with fringes and cords
It may be that the DIY trend is one of the reasons behind the comeback of trimmings to more modern, updated rooms. Whatever the case may be, in order to get unique and original cushions, nothing's easier than adorning them with gimps, tassels or fringes. Do you dare? If sawing is not your forte, you can always call upon ready-made complements. These also belong to Fabricut's Jaclyn Smith IV collection.
Color tassels
This cushion from British firm Voyage is a perfect example of the fact that trimmings are not exclusive to classic designs. In our stores you'll find fashionable designs in trendy colors, ideal for modern interiors.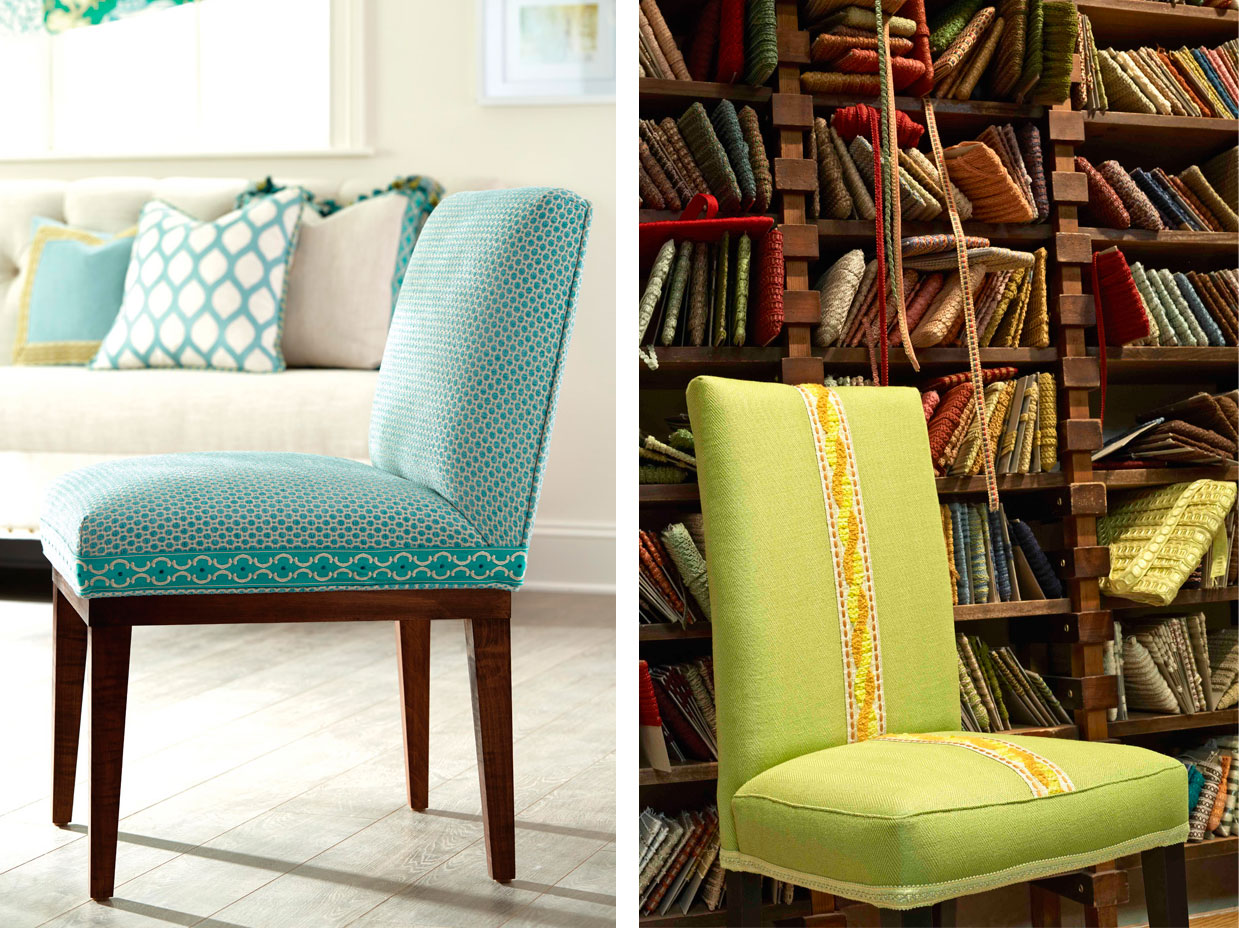 Chairs with trimming borders
Borders are classic finishes for chair upholstery, and it helps to create a beautiful union between the fabric and the wood or the material of the structure. Upholsterers simply apply it with contact cement. But this is not the only aesthetic value of borders. Why not use them also to decorate the backrest? On the left, upholstery from Fabricut's Jaclyn Smith IV collection, and on the right, a proposal from Gancedo.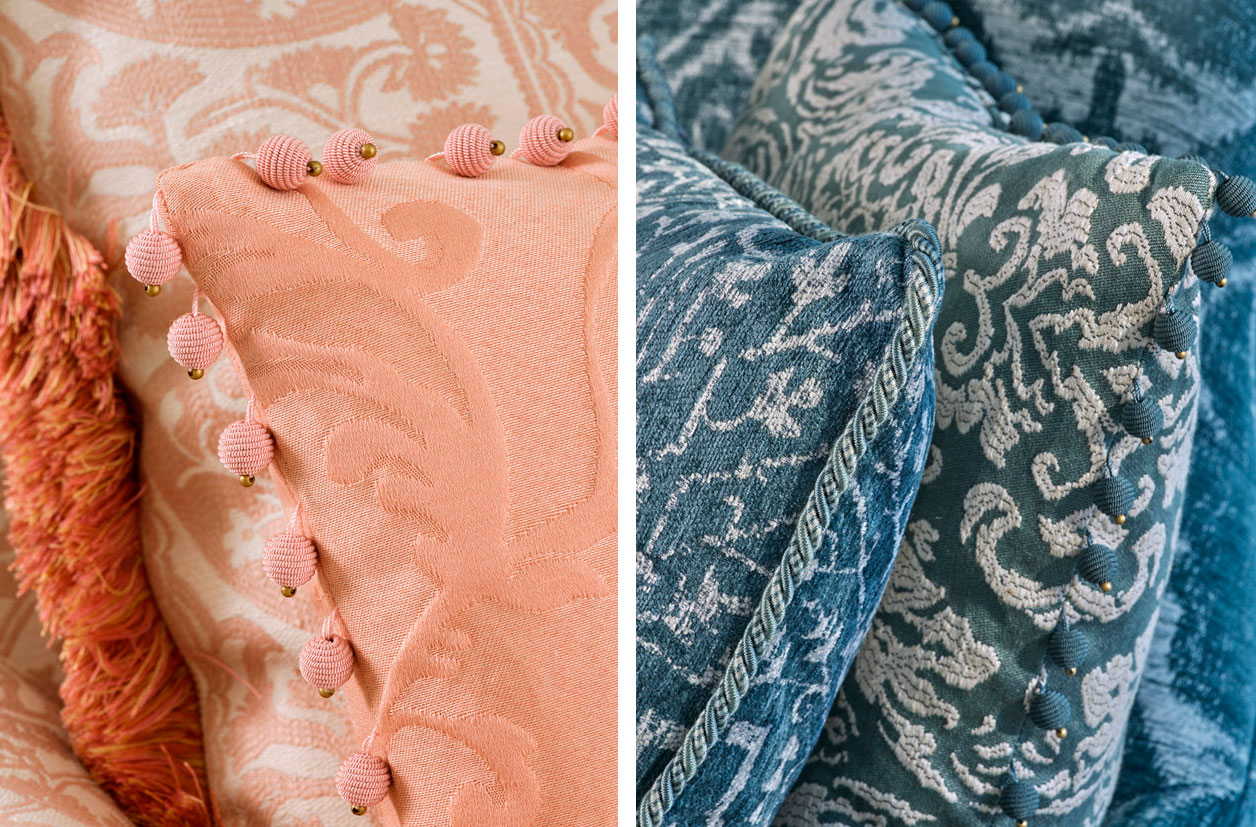 Cords and tassels
Another of our international firms, US-based Robert Allen, also joins the trend of trimming décor with Enchanting Color, one of their latest creations.
At Gancedo we have cords for anyone and every taste: from the most classic to the most modern, and even for rooms for children. Our firm Galón, also specialized in trimmings, fabricates these decorations in the client's color of choice.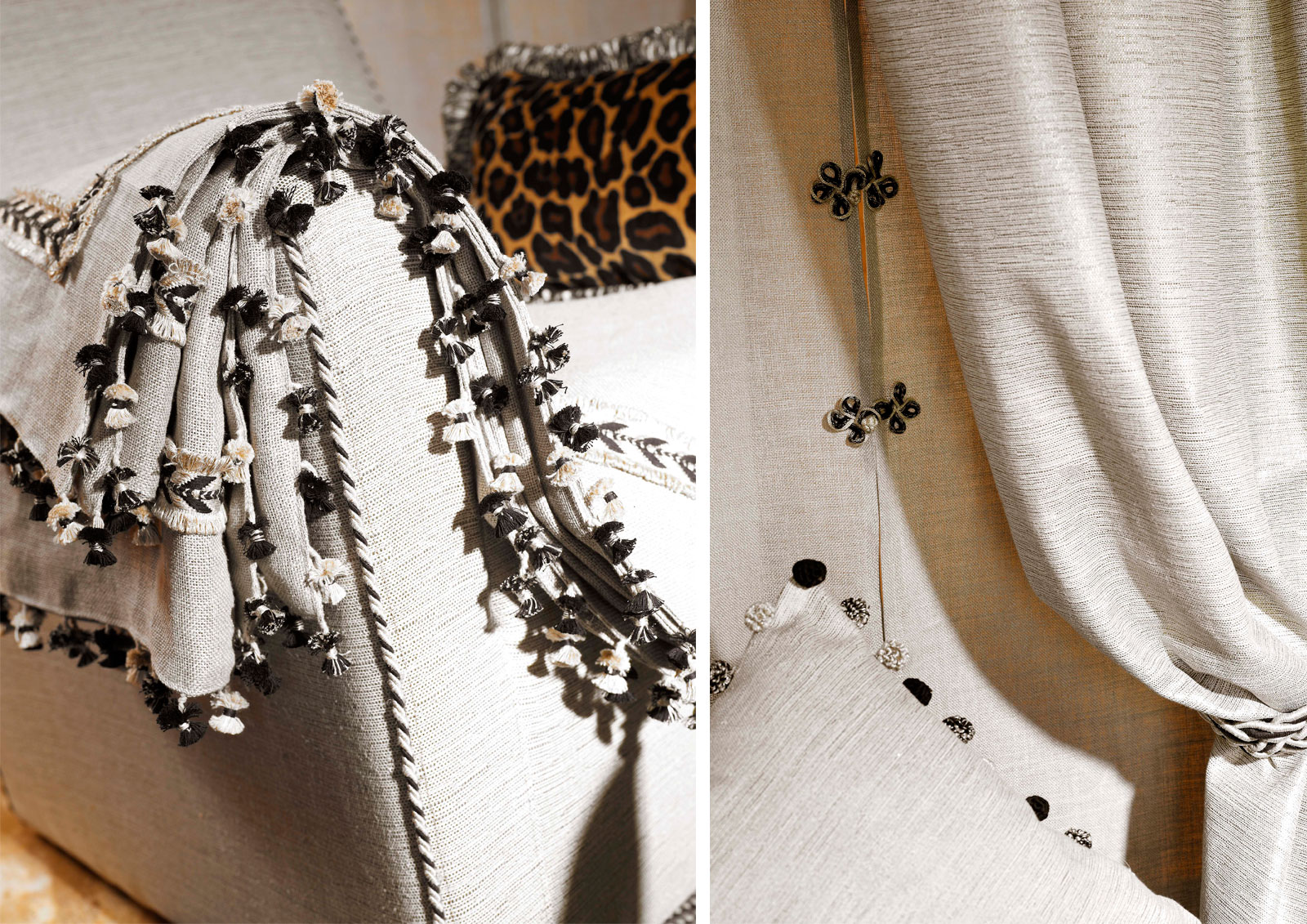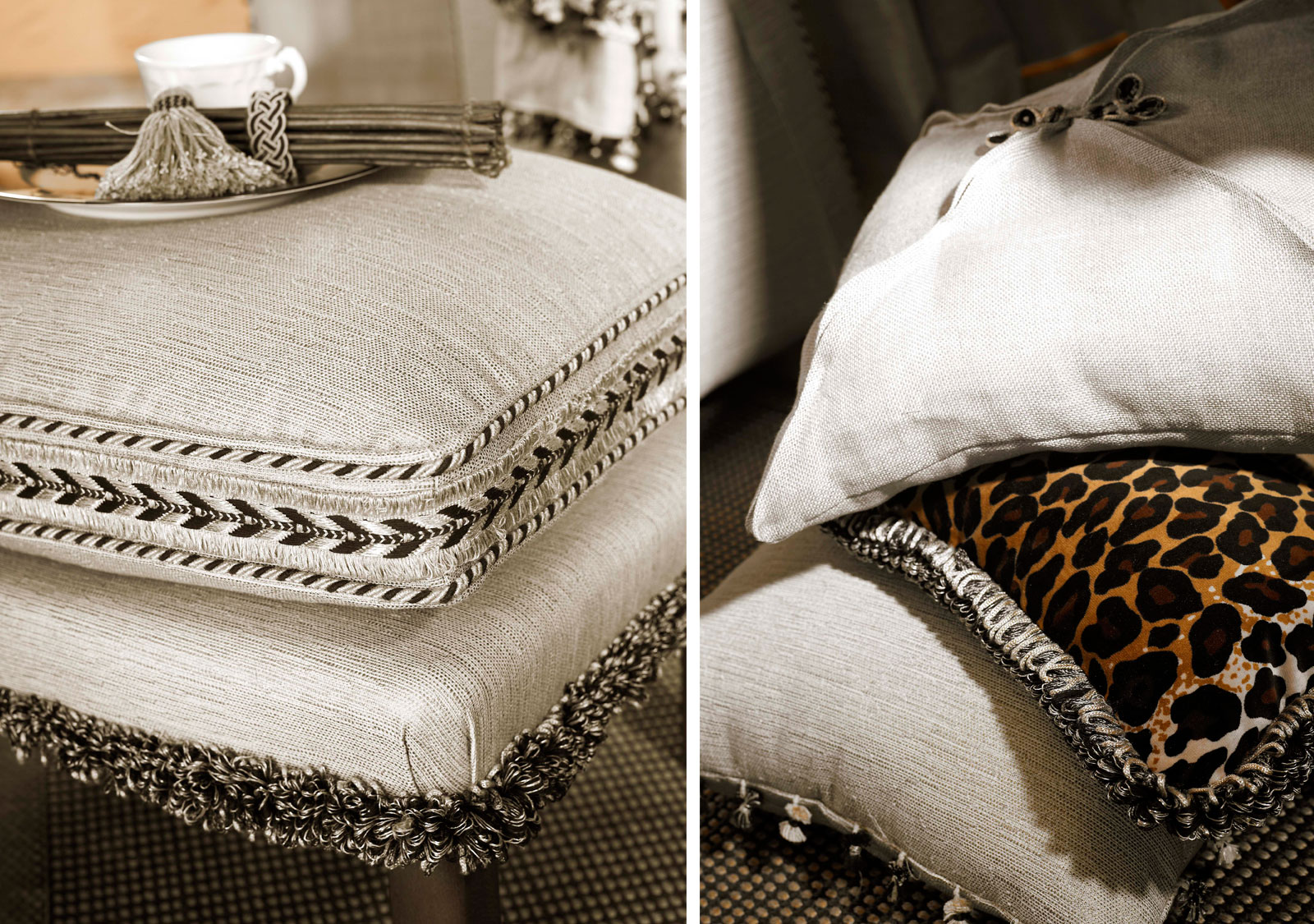 New trends in trimmings
These images belong to Kilimanjaro, one of the latest collections from Galón, our trimmings firm. In this case, the design team was inspired by Africa to create a series of items (cords, clamps, ties, tassels, fringes and more) in browns, blacks and beige and golden tones.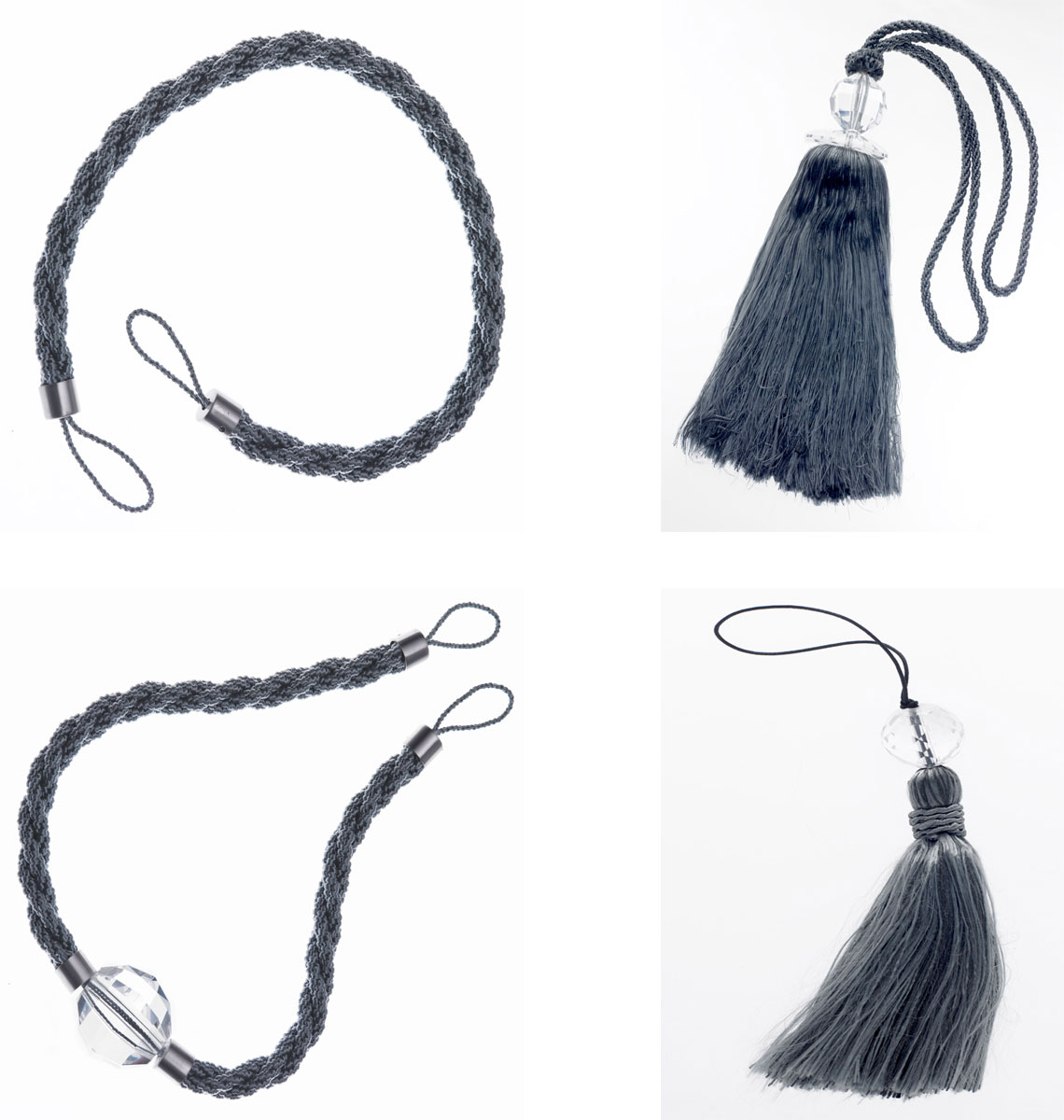 Are you familiar with the terminology?
As you can see, trimmings encompass a great variety of decorative items, from ties and tassels to fringes, cords and more. In order to help you identify and differentiate each and every one of them, Gancedo has crafted a practical dictionary of trimming terminology with all you need and want to know (specially if you like sawing and craft work). Click here.
If you have any doubts, please don't hesitate to contact us. Our team of professionals will be happy to help you with any query you may have.