Springtime is here. We will leave the coronavirus quarantine behind and once more enjoy the sunshine, the strolls, the café terraces, our friends…and everything that we miss so much right now. In the meantime, at Gancedo we invite you to explore some of the latest collections which have arrived in our shops; designs which are once again in keeping with the trends that the fashion runways have been unveiling for this spring/summer season. A small sample which will leave you wanting more and that you'll be keen to see for yourself. Let's be patient, because, in the end everything will come to us.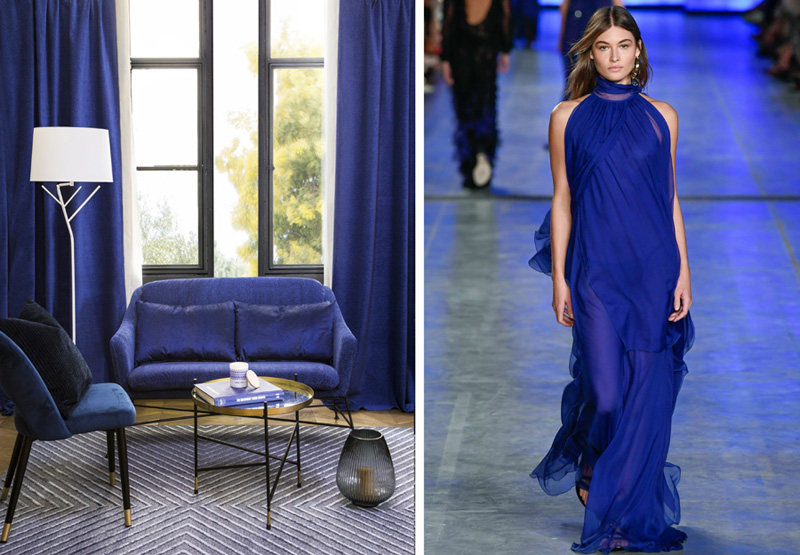 Gancedo, Chromatic / Alberta Ferretti, Spring-Summer 2020
Classic Blue, the colour of the year
The Classic Blue shade of blue is, according to Pantone, the 2020 colour of the year. It's a blue which inspires calmness and confidence, accentuating our desire for a trustworthy, stable cornerstone on which to build our trust as we cross the threshold into a new era. Pantone calls it "a timeless blue, elegant in its simplicity", a colour which resembles the sky at dusk and which "promises to protect us, accentuating our desire for a solid cornerstone".
It's a versatile colour, which not only blends into any decorating scheme, but is also a wardrobe essential. And it's one of the colours which make up Gancedo's new Chromatics collection: 2 double hangers holding 14 patterns (in different finishes and textures) in 111 fabulous colourways, all totally on-trend. Chromatics features a range of incredibly resilient, long-lasting fabrics, a co-ordinated collection, with multiple applications, which can be used in each and every decorating scheme.
In it we find on-trend colours including warm ochre tones (coffee, clay, caramel, copper…), pastels (cherry blossom, vanilla, flamingo pink…) and a wide range of blues and greens, all mixing and matching.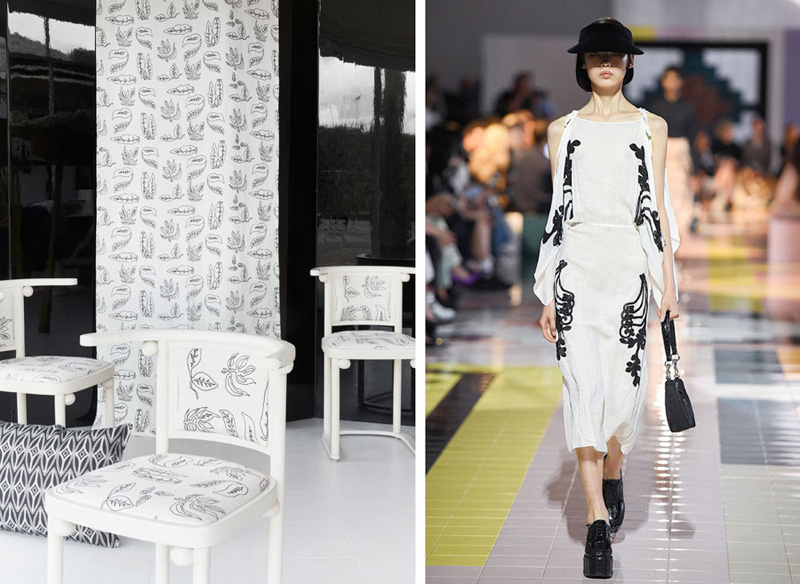 Gancedo, Canigou / Prada, Spring-Summer 2020
Two classics that never fail
We know that with the arrival of the good weather, filmy fabrics in bright, translucent colours appeal, but that doesn't mean we should abandon prints: fabrics combining black motifs on a white background are ideal for creating a modern look with a dash of sophistication.
The new collection, designed for Gancedo by the French interior designer and antiquarian Serge Castella, takes it inspiration and its name from one of the most famous peaks in the Pyrenees, Canigou. Serge was inspired by the flora and fauna of this mountain, by its materials, its spirituality…conjuring up patterns such as Leaves (an outdoor fabric), printed on pure linen featuring drawings of forest leaves, of eucalyptus, fig trees, oaks…recalling the sketches of Matisse, in a width of 3 metres.
In addition to beiges, écrus, blacks and greys, the colour palette employed by Serge includes browns, coppers, pinks and greens.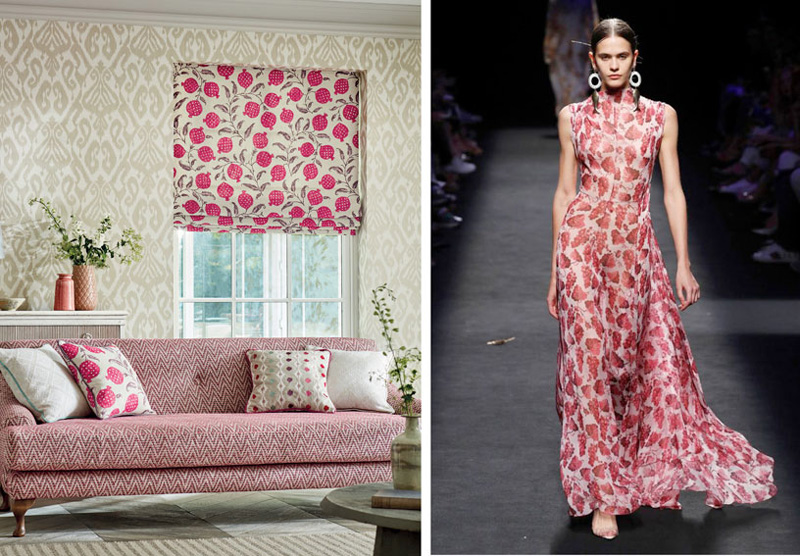 Gancedo, Caspian de Sanderson / Juan Vidal, Spring-Summer 2020
Floral prints
Large, small, printed, embroidered…Flowers are invading runways and our homes to cheer us up and fill every spot with colour and cheer. They are, without a doubt, the perfect motif for adding a spring-like touch both to our wardrobes and our décor. If you're also trying to create a delicate, romantic look, choose prints in shades of pink on a white background.
At home, to avoid a décor which looks too regimented, don't hesitate to mix different patterns or even to add striped upholstery or accessories (in the same shades, of course). This is actually one of the suggestions made by Sanderson, in their Caspian collection, inspired by the Silk Road, which linked Asia with the Mediterranean Sea for over a thousand years.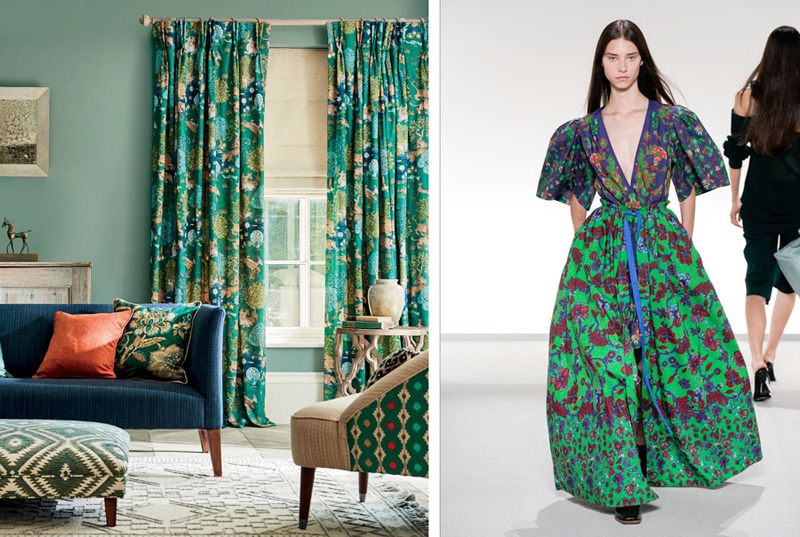 Gancedo, Caspian de Sanderson / Givenchy Spring-Summer 2020
The green palette
Green is still one of the on-trend colours in 2020. And it really is perfect for creating relaxed, welcoming environments, making it a very attractive colour for embellishing any spot in the house. Mix and match different shades of green, mix prints and add a contrasting splash of salmon or coral to lend a summery air to the décor.
Above, a sitting room bedecked in different patterns from Sanderson's Caspian collection, mixing different cultural styles: from Chinoiserie to Uzbek, from Indian to  English country house, melding exotic influences to create a more playful, exuberant approach to interior design. The collection comprises 3 embroidered fabrics, 9 prints, 8 jacquards and 13 wallpapers, enhanced with metallic glints and mica crystals.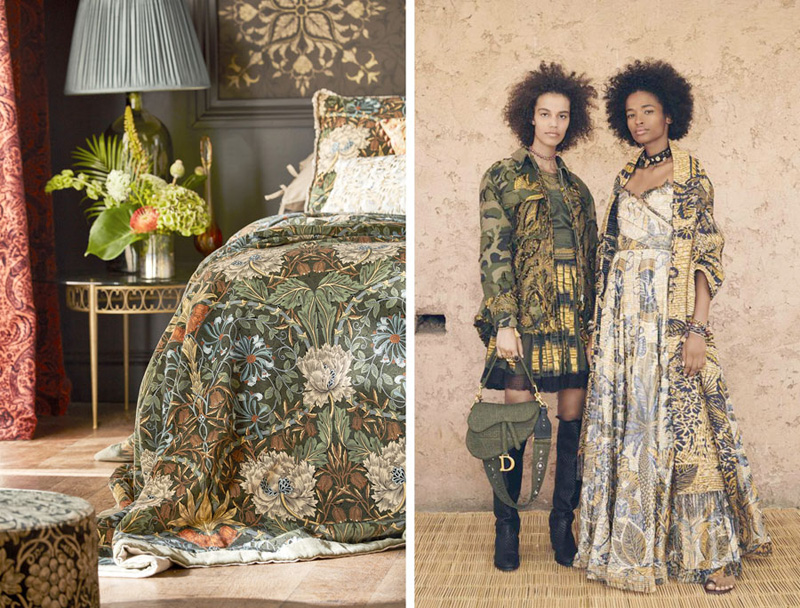 Gancedo, Rouen Velvets de Morris&Co / Dior, Spring-Summer 2020
Foliage
Patterns featuring large floral motifs, along with those that bring the African savannah to mind, are amongst the most obvious trends of the summer season, and the iconic, instantly recognizable prints by William Morris are still totally on-trend.
Morris & Co have just launched Rouen Velvets, an impressive collection of 6 plush velvets, inspired by the colour-suffused cathedrals that William Morris discovered on his first sojourns in France. Rouen Velvets includes signature Morris designs, such as Strawberry Thief and Honeysuckle & Tulip, printed on a sumptuous pure cotton fabric, as well as other timeless designs, suitable for curtains as well as upholstery and cushions.
As you can see, the 2020 Spring-Summer season brings in its train the latest ideas that we can't wait to show you, and this, we are convinced, we will be doing very shortly.