We're still decking our homes out for summer: Farewell to thick curtains, hello to sheers and voiles! When we decide to update our surroundings or give them a look in keeping with the season of the year, fabrics are always our closest allies: from small items such as cushions to the fabrics we choose to dress our windows, they help us to refresh our décor. The new selection of sheers and voiles from HappyTex Vistas by Gancedo is perfect for achieving a cool, natural effect; its linen and cotton fabrics in light shades are ideal for maximizing brightness, while at the same time embracing and lending a degree of intimacy to our surroundings 
White fabrics, success garanteed
If you don't want to take a risk, choose some plain white sheers or voiles: not only will they match any design you have in mind, they are also perfect for every room in the house. When winter arrives or you want to add a warmer touch, you won't need to take them down or change them, because you can always combine them with some heavier drapes in a dark colour. In the photograph, Arpi Blanco, also available in shades of green, beige and brown.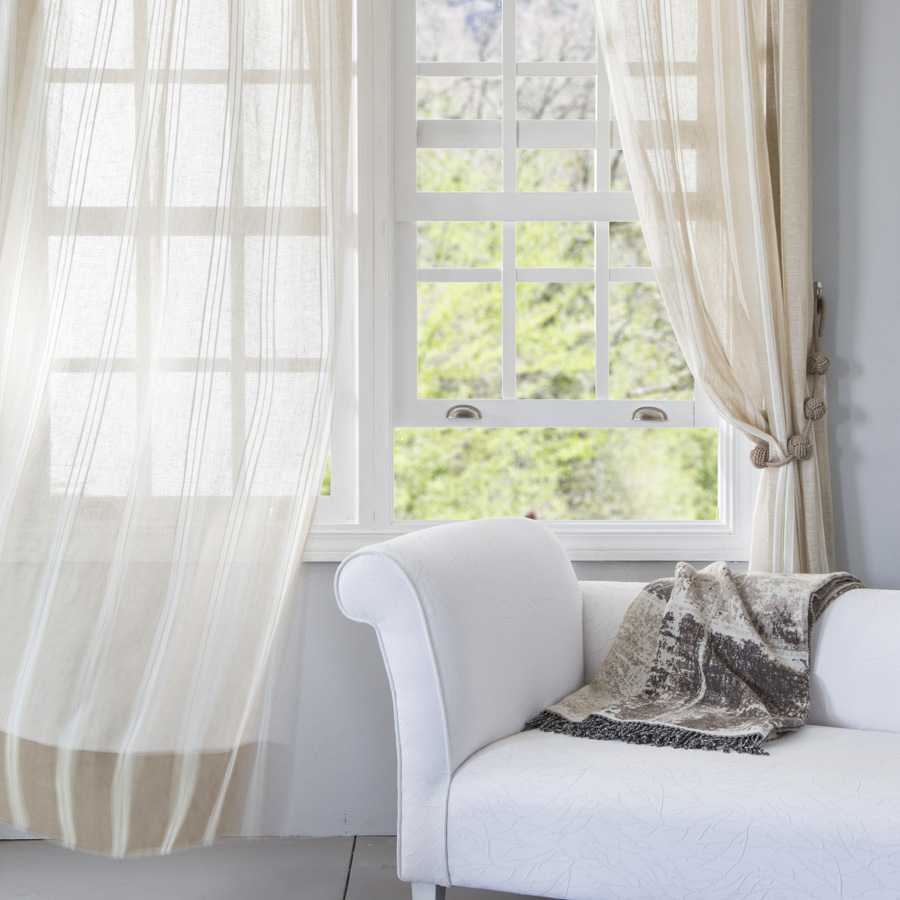 Sheers and voilers that filter the light
In interiors in which white is the dominant colour, you can enhance the décor with some cotton or linen sheers or voiles in a darker shade. Remember that for larger windows, the ideal thing is to use fabrics with a semitransparent weave to filter the light, preferably plain or with very discreet patterns so as not to overdo things. As holdbacks, designs in shades of ecru and beige will bring out the natural feel of this type of fabric.
At Gancedo we also supply a wide variety of holdbacks, curtain ties and ornamental trimmings to set off the voiles with flair and these will undoubtedly add a personal touch to whatever fabric you choose.
Curtains and Roman blinds
To achieve a harmonious and balanced decor, deck out the windows with curtains and Roman blinds made from the same fabric, in exactly the same colour. In this case, the choice was the linen voile Cloud by HappyTex, featuring an understated striped pattern, which lends a certain lightness to the room.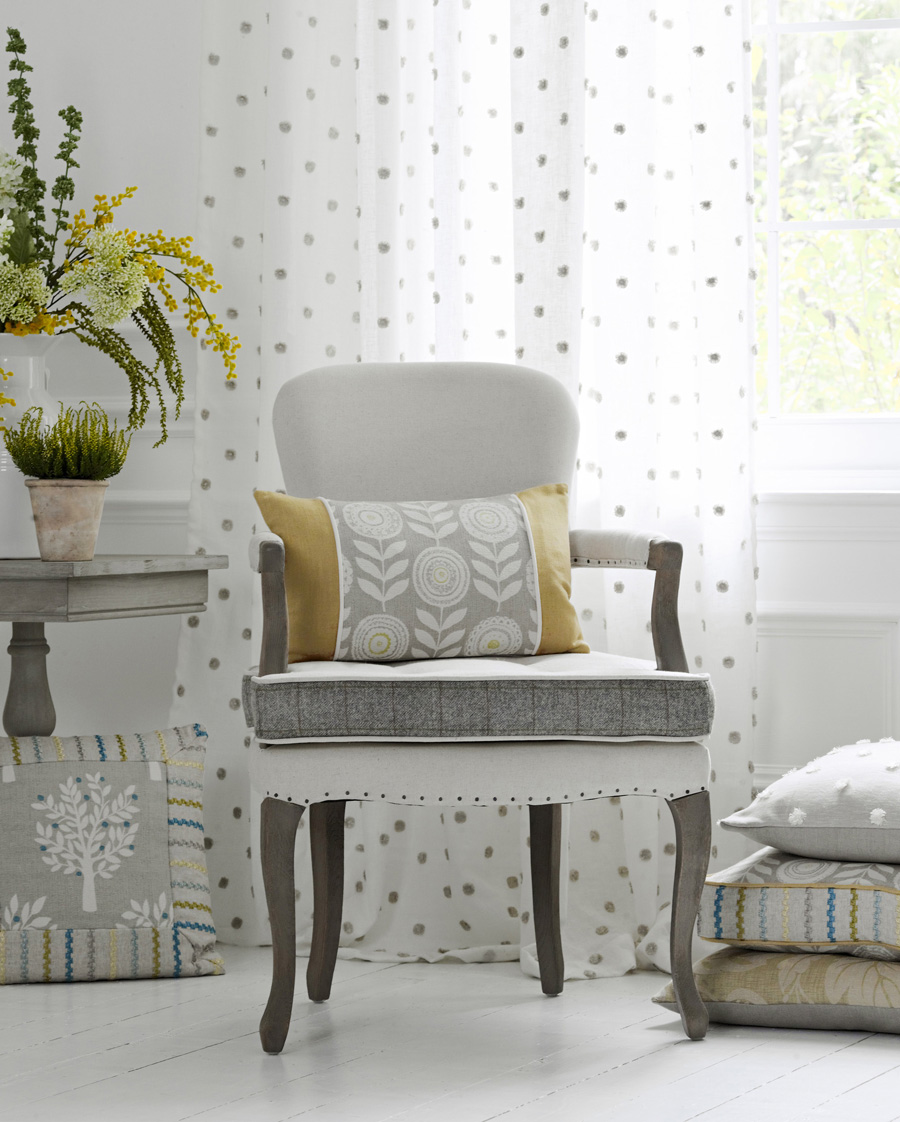 Plain or patterned?
If you're undecided, consider the possibility of choosing a fabric with an understated pattern or embroidery. At Gancedo you can choose from a wide variety of striped and checked designs in a wide range of shades, as well as fabrics by other international labels, such as the one which appears here, a sample from the Cotswolds Collection by Voyage Decoration, with subtle polkadots.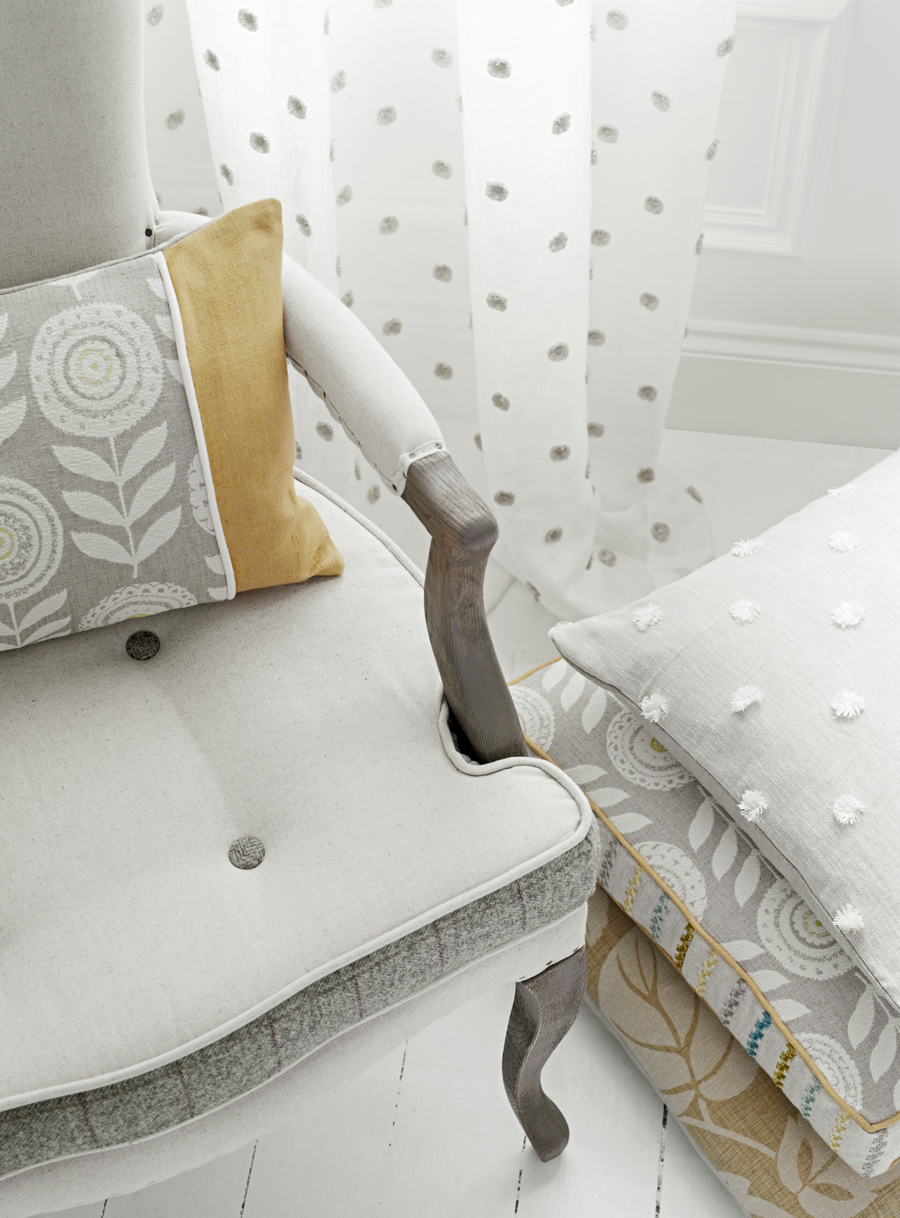 Check out this suggestion: to create a calm, balanced yet visually plush environment, start with a background in shades of beige, stone or grey but relieve the blandness with splashes of colour. Combine fabrics with different weaves and don't mix more than three different colours.
Visit our stores and discover for yourself the enormous range of sheers and voiles, ideal for bestowing a fresh look on any setting. Our team of professionals will be delighted to advise you on the most suitable fabric, the colours which will best match your decor, how much fabric you will need, and the systems available for hanging them along with tricks of the trade to engineer a spacious effect.