The good weather is already upon us. Ahead of us we have sunny days when we can make the most of enjoyable interludes outdoors with our nearest and dearest: barbecues, afternoons soaking up the sun on comfortable loungers, whole days beside the swimming pool…What a wonderful time we have in summer! And it's even better when you're lucky enough to have your own garden. If you are one of the lucky few, you'll already be aware that your house will end up becoming your friends' favourite meeting place during the summer season. So, don't waste any more time, and put everything in place to create a welcoming atmosphere, right down to the smallest detail. At Gancedo we'll help you to deck it out in the latest fashion with our new collections of outdoor fabrics and rugs.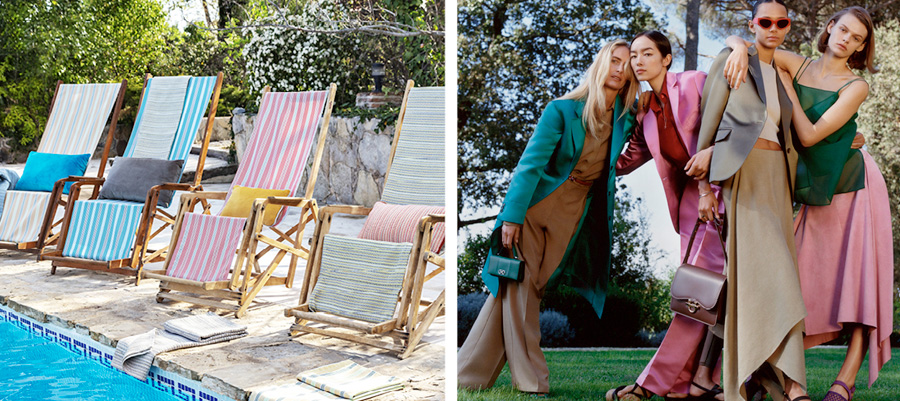 "Mix & Match"
Just as we said goodbye some time ago to fussily matching outfits, so in interior design the trend is to mix items of differing styles and eras, as well as to experiment with soft furnishings in order to create bold decors, which are much more visually pleasing than single coloured schemes. Now take this trend to the garden of your house and don't be afraid to mix and match fabrics in different patterns and colours.
With Saint-Tropez, Gancedo's new outdoor fabric collection, it's very easy to follow this fashion, as it comprises three designs (plain velvets, textured jacquards and coloured stripes), intended to be mixed and matched with each other, meaning that coming up with the perfect mix won't be at all difficult. On the left: Salvatore Ferragamo's collection for this spring-summer season, also in deep and contrasting colours.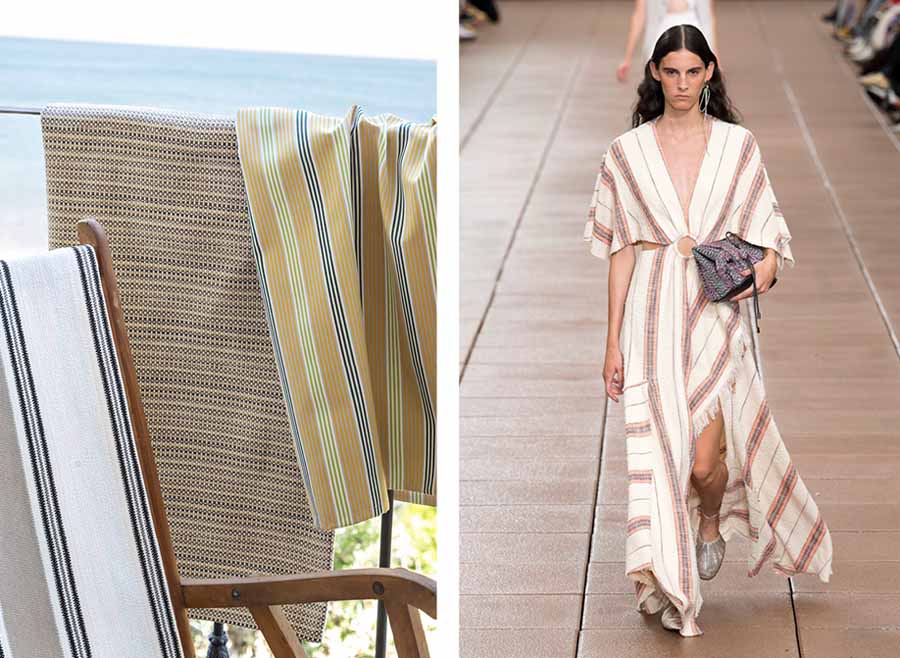 A totally cool summer
Elegant and simple, with that chic touch, and above all, very natural. Is it possible to create a balanced, agreeable atmosphere which encompasses all these values? You can see for yourself that it is.
Taking its inspiration from the jewel of the French Riviera, Gancedo's Saint Tropez collection features outdoor fabrics with cool, contemporary patterns, in a colour palette ranging from deep turquoises and blues to oranges and yellows, and including those "handy" neutral shades (greys and taupes) which go well with everything. They are manufactured in coloured acrylic, which means that they are washable.
Beguiled by this summer 2019 trend for everything natural, we've fallen in love with this 3.1 Phillip Lim dress: simple, understated and cool.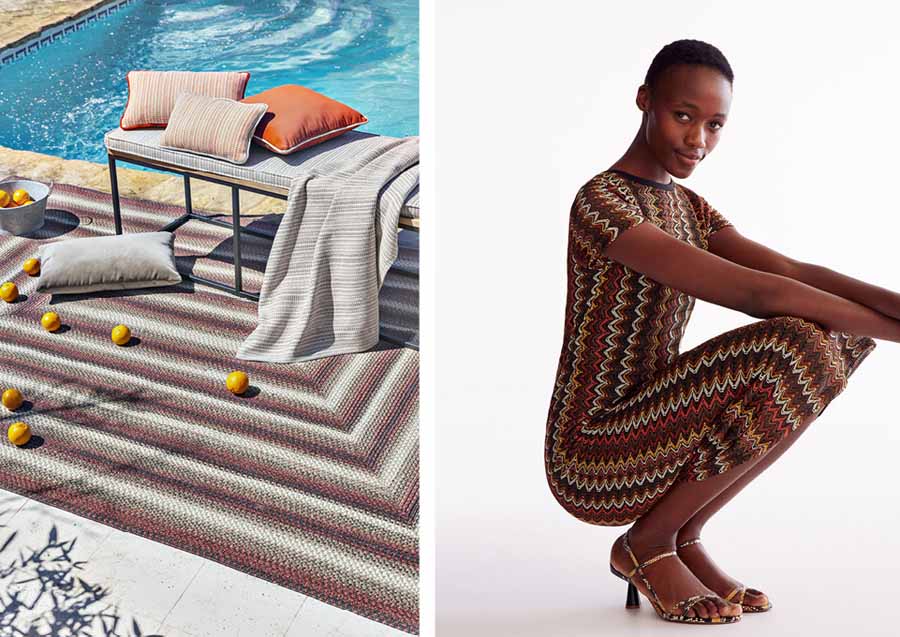 Natural shades
The on-trend colour palette for this 2019 spring-summer season strongly suggests zestful, joyful vibrant colours and neutral colours which work in any area or decorating scheme. So, as well as reds, oranges, yellows, greens and blues, we find fabrics in a warm, welcoming brown, perfect for mixing and matching with tones in the same range (such as the Uterqüe knitted dress, on the left), with greens or with deep reds or blues to create attractive contrasts.
The new outdoor rugs, Afro Rugs, are available in three colourways (blues, red/beige, and grey/brown), perfect for adding a bright, festive note to any outdoor area. They are manufactured in polypropylene, viscose and polyester, materials which are sun and shower proof.
Stripes
Horizontal or vertical, coloured or in neutral shades, thick or thin…stripes are on-trend this season and are absolutely everywhere, not only on dresses, shirts and trousers, but also on the new outdoor ideas from Gancedo: both on the Saint Tropez fabrics and on the Afro Rugs rugs. On top of that, we don't know if it has anything to do with it, but ever since Angela Missoni presented her "M for Missoni" collection for spring summer 2019 (on the left), stripes have been more in fashion than ever. A collection based on coolness and comfort.
And that's what the new Afro Rugs rugs from Gancedo are like: cool, comfortable and with on-trend patterns. Inspired by African craftsmanship and traditional colours, they feature a pattern formed by fading concentric rectangles. You'll find them in two different sizes: 1.70 x 2.30 m and 2 x 3 m.
We invite you to discover all these ideas for yourself on the spot at Gancedo's new store located at Calle Velázquez 38 (remember that we've changed our address in Madrid).