Now that summer's gone, it's time to get back to real life. No more dips in the swimming pool, or naps, or sunbathing on the beach… "going back to school" is definitely an uphill struggle, because it's hard to stop thinking about what a great time we've had during the holidays. But let's face it: we have to get back to the daily grind, although there's no reason at all why we shouldn't do so surrounded by things that will remind us of that lovely spell.
Rugs in natural fibres are, undoubtedly, one of those soft furnishing extras that any suit any time of year, not just the summer. Take advantage of this! It's true that we normally associate the autumn-winter season with fluffy woollen rugs and it's easy to understand why we love them. They're soft, nice and warm, can be made to fit any decorating scheme and, what's more, they're harder wearing than other materials. But they're not the only option. Those natural fibre rugs, which you possibly used this summer to smarten up some rooms in your house, are also a perfect choice. Let's see why.
Insulating
Rugs in natural fibres are perfect for bestowing a natural, stylish touch on any room. Besides, now that it's on trend to put down two overlapping rugs, you can use them on their own or combined with other materials. In any case, remember that fibre rugs provide excellent insulation, both from the heat in summer and the cold in winter. Above, a rug in natural jute, "Liso" by Gancedo.
Trending
Let's take another look at a decorating trend which is attracting more followers by the day: using two overlapping rugs, a fashion which, understandably, requires a certain feel for aesthetics. As well as getting it just right when it comes to blending shapes, sizes and patterns, it's important to use flat rugs, because otherwise it would not be at all practical should you decide to add pieces of furniture.
For this reason, natural fibre rugs are an excellent option, not only because they are not very thick, but also because their designs and natural tones will fit any decor like a glove, not to mention being very easy to mix and match with other plain colours and patterns. Your best bet is to use the natural fibre rug as the base and, on top of it, a printed design. Above we can see two natural rugs by Gancedo: "Rombitos" and "Trenzas".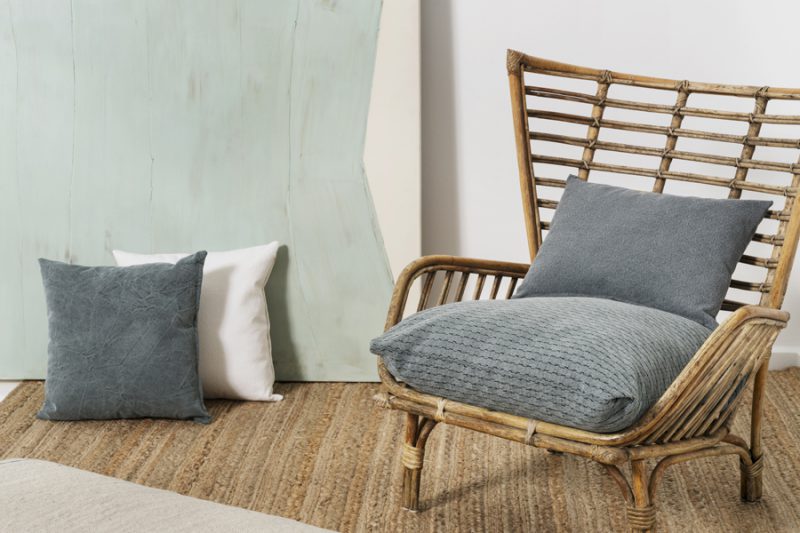 Easy to mix and match
Although we normally associate them with rustic interiors, natural fibre rugs blend in with any decorating scheme, from classic and contemporary to the most modern and avant-garde looks. Depending on how they are woven they can have either a simple or more sophisticated look.
Their natural tones are perfect for evoking harmonious, serene and elegant atmospheres, although it is also possible to find designs coloured with special dyes that will add a livelier touch to the décor. Why not combine fibres of the same material in two different tones?
Above, two jute rugs by Gancedo: "Trenzas" and "Rayas Gris" 
Contemporary designs
As well as the classic plain designs, Gancedo offers a wide range of plaited or woven rugs in different patterns, such as herringbone or diamond shapes. Above, the natural fibre rug "Rombitos" can be seen.
You could also consider whether it mightn't be a good idea to add a decorative edging to your natural fibre rug, as this will not only help prevent it unravelling, but also opens up great decorative possibilities. Experiment with the colour of the edging and drapes and upholstery: you can coordinate them or go for a contrast.
Visit our website or drop in to any of our stores to see the Gancedo natural fibre rug collection for yourself. They come in 100% jute and are available in two different sizes: 1.4 x 2 and 2 x 3 metres.