In summer, the number of celebrations and al fresco meals increases exponentially. Once again, the table becomes the focus of all our meetings and we try to find ways to decorate it freshly and informally, without meaning in any way that it should be any less elegant and stylish. Finding inspiration in the light and colour of the summer season, Gancedo has created the "Country" collection: linen tablecloths and runners in shades ranging from beige and mustard to pink, blue and greens, perfect for creating arrangements brimming with life. A collection which underscores the determination of this fabric company to create, with the help of its clients, places which tell their stories and convey their emotions.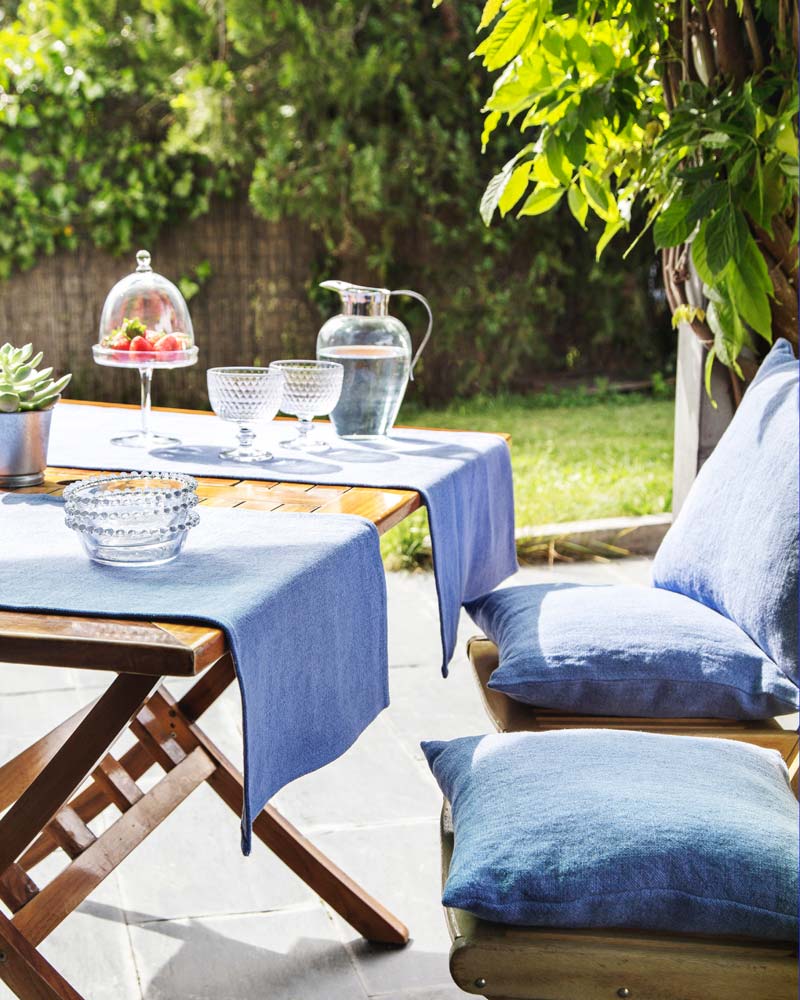 Table runners for informal meals
Bear in mind that, along with the setting and the company, the table décor and little details also contribute to managing to create an image as appetising as the one accompanying these lines.
At informal parties or al fresco meals, you can replace the tablecloth with runners, in the same colour or in different shades, to produce a lively, light-hearted décor. But remember: in the latter case, in order to avoid a fussy look, you'll have to choose either white or clear glass crockery to tone it down and avoid overdoing it. Gancedo's "Country" table runners measure 45 x 130 cm and you will find them in four colours: pink, blue, mint green and glass green.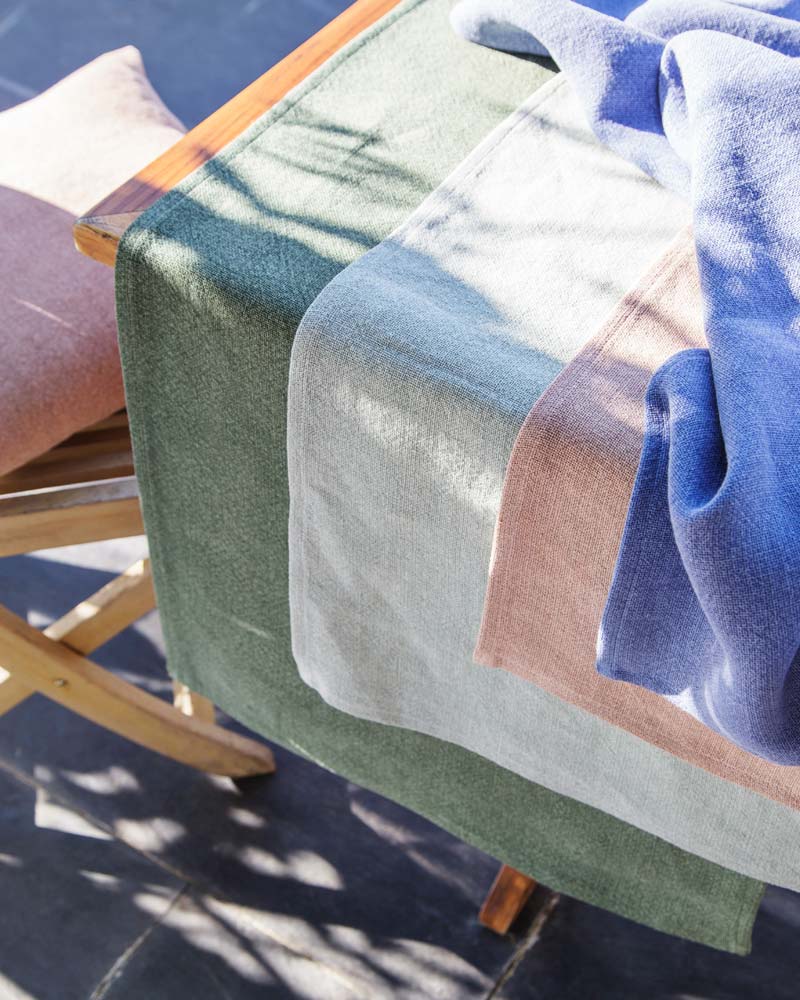 Dusty Shades
The colours of Gancedo's "Country" table linen will enliven the décor of any outdoor area. Its dusty shades are timeless, so you won't tire of them anytime soon, and as they are plain, they mix and match with every type of crockery: from pieces of white china to dishes in a contrasting colour or with understated patterns in the same colour as the tablecloth on a neutral background.
Thus, Gancedo's "Country" tablecloth in sea green will go very well with pink coloured crockery and vice versa, a pink cloth with green plates, as, despite being on opposite sides of the colour wheel, they are complementary colours, which when combined create soothing, balanced contrasts. A mixture which leads to fresh, cheerful tables. For a Mediterranean style, nothing beats combining a blue tablecloth with plain white dishes or dishes with subtle marine motifs in blue. There's no end to the possibilities offered by the "Country" tablecloths colour palette.
These tablecloths come in three different sizes: 140 x 140 cm, 200 x 200 cm, and 250 x 290 cm, and in four colours: tobacco, cactus green, beige, and mustard.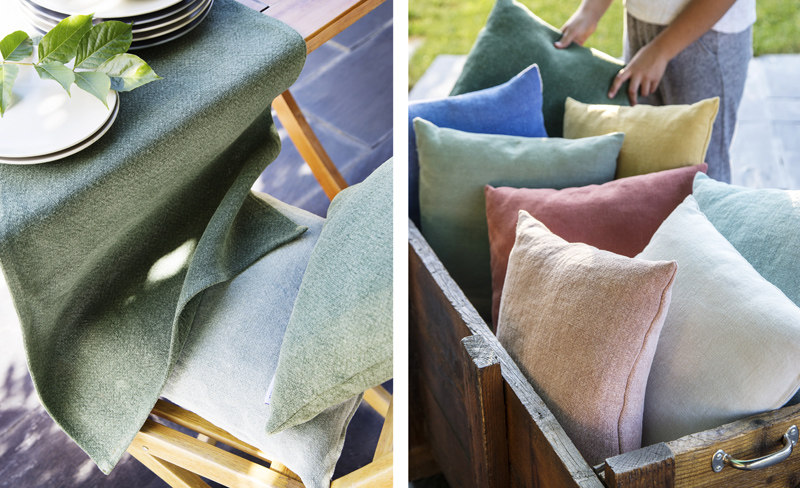 Cushions to enhance your seating
The Gancedo "Country" collection also includes cushions which will enhance the décor of your dining room and make those after-dinner moments more comfortable and enjoyable. They are available in the same colours as the table linen, so you'll find it easy to create a coordinated décor – all in the same range – or even to allot a different colour to each guest. It looks lovely if you opt for cushion, napkin, cutlery and table trimmings in the same colourway for each place setting.
Cushions will also prove the perfect partner for the seating area of the sitting room, both indoors and outdoors.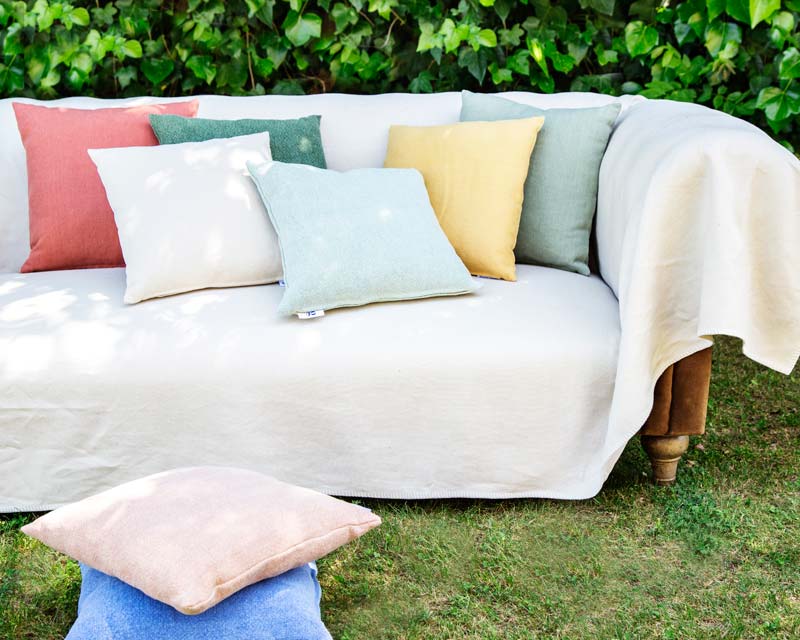 Versatile pieces
This napery has been woven in top quality linen, lovely and versatile; what's more, the pieces can also be used as throws or even perhaps sofa coverings. Careful stitching, which looks handsewn, renders these carefully and lovingly handcrafted pieces especially unique. It's a fact that using its own workshop enables Gancedo to proudly nurture its knowledge of the craft, endowing each piece with a unique quality.
But none of this would be ideal for outdoor areas if it were not also easy to clean. Washable fabric with a dash of character, elegance and color.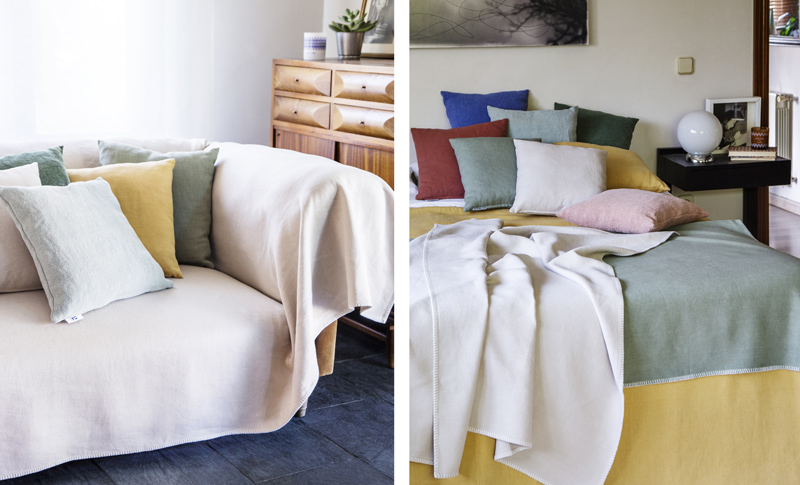 Meanwhile indoors…
Another of the attractions of Gancedo's new "Country" collection is that these are fabrics which are also perfect for decorating the interiors of our homes: cushions and tablecloths in the style of throws or sofa covers will help you to lighten up your décor and create a fresh, natural atmosphere. As you can see, this is a collection designed to be our partner during long summer afternoons, but there's no reason why we have to limit it only to the summer season or to gardens and terraces.
Tablecloths, table runners and cushions in which, as in all other Gancedo products, there beats a passion for quality which only the savoir-faire of three generations can provide.