As well as embellishing and bringing warmth to their surroundings, rugs are essential extras which enhance the decor of any room. But it's important to find a type which fits our tastes and the quirks of the room where we are going to put it.
At Gancedo we want to help you to choose the perfect rug and for this reason, as well as presenting you with our mini-guide, we want to introduce you to our two latest collections: Dhurries and Geometric, the perfect solutions for up-to-date interior design.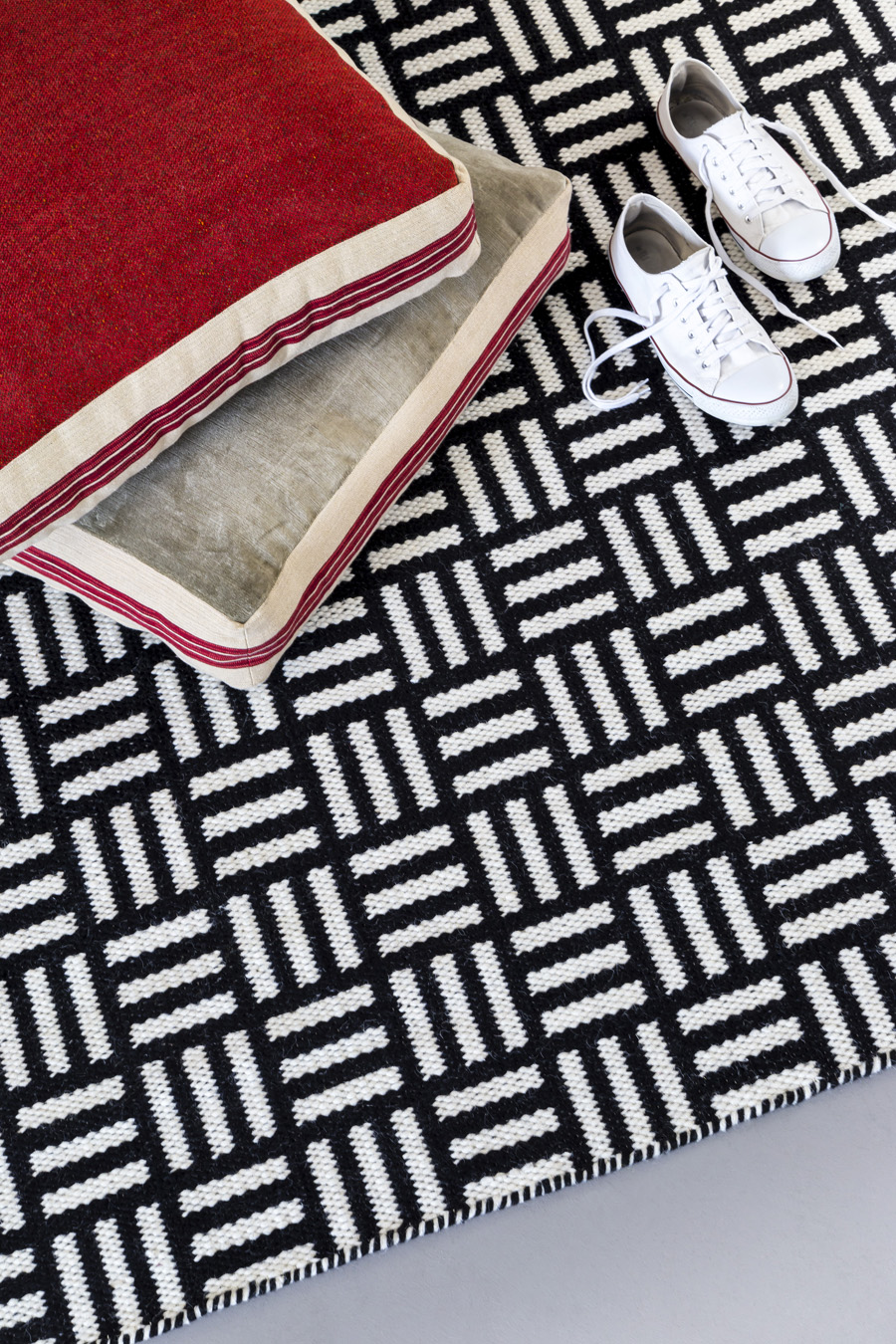 Composition
These rugs are manufactured in different materials – wool, cotton, synthetic fibres…Whichever you opt for will depend on how you plan to use them.
Our handmade Dhurrie Collection rugs, woven in 100% pure new wool, are notable for the scrupulous attention to detail paid both to their perfect knotting and to the dyes selected.
Since woollen rugs protect against both heat and cold, their use is recommended all year round. They are soft, easy to clean and have great flexibility – they recover their original shape whether squashed by a piece of furniture or anything else – and are colourfast.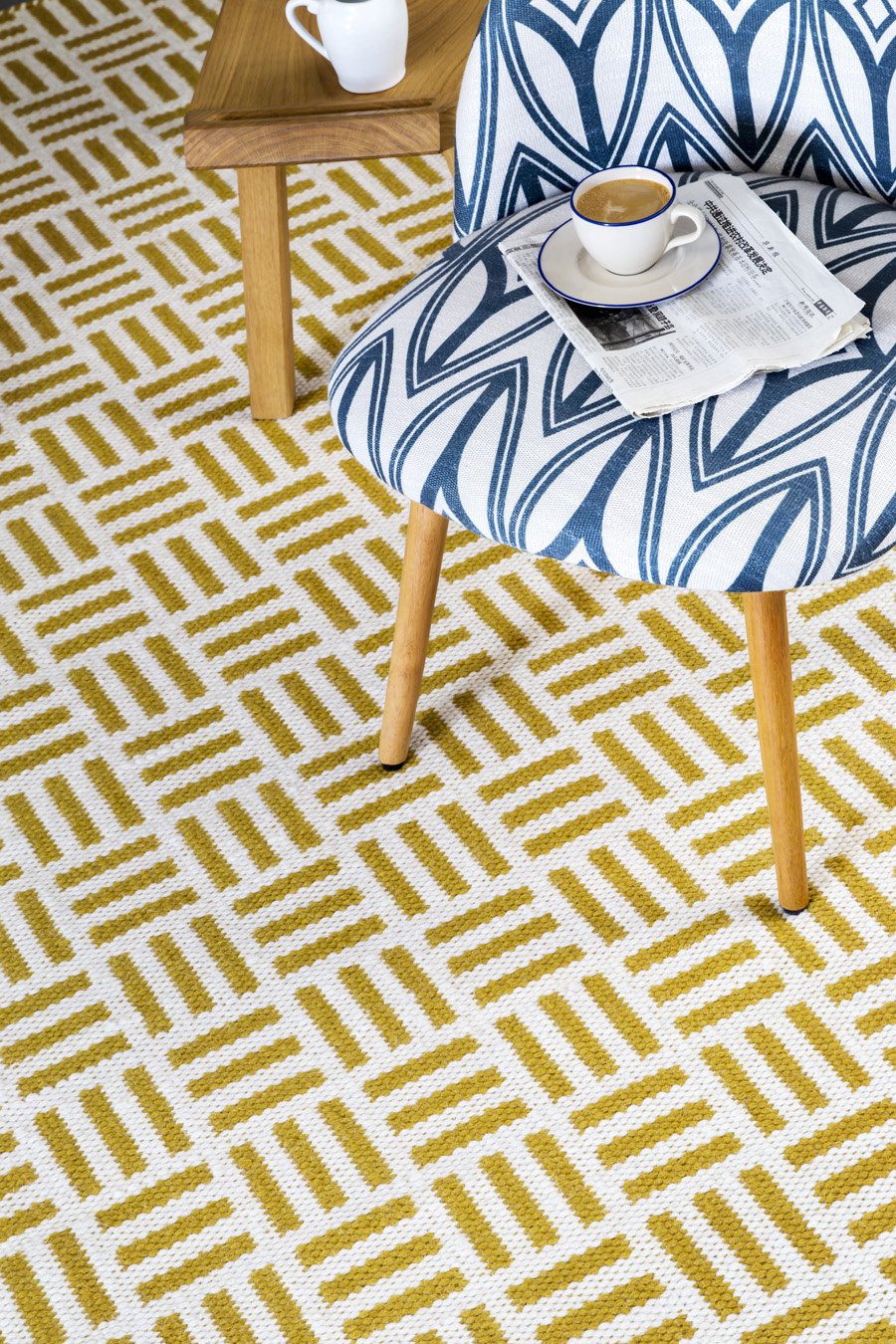 Design and colour
What effect are you aiming for? If what you want is for the rug to blend into the décor, choose a design in the same shades as your other fabrics; ecru designs are ideal for lending a light touch to decorating schemes in which strong colours or bold patterns are the keynote, while rugs patterned in contrasting shades become the focal point of the décor.
Above, a sample from the Dhurrie Collection, with a geometrical print and the characteristic ecru background (the weft) worked in five different colours: yellow, blue, sky blue, brown and black. These are reversible and hard-wearing.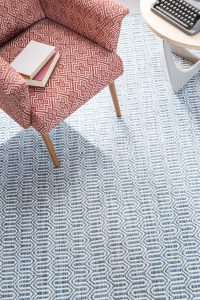 Shapes and sizes
Neither too big, nor too small. Before purchasing your rug, it's advisable to measure the space where you are going to put it. It's a good idea to make a sketch of the room, complete with furnishings and different sizes of rug – you could even mark the outline of the rug on the floor with masking tape.
Also, take into account the shape of the rug. Bear in mind that a square model will look better in a square room; rectangular ones are ideal for rooms of the same shape, and round ones will help you to add a touch of originality. Beside these lines, another sample from the Gancedo Dhurrie Collection, measuring 2 x 3 metres.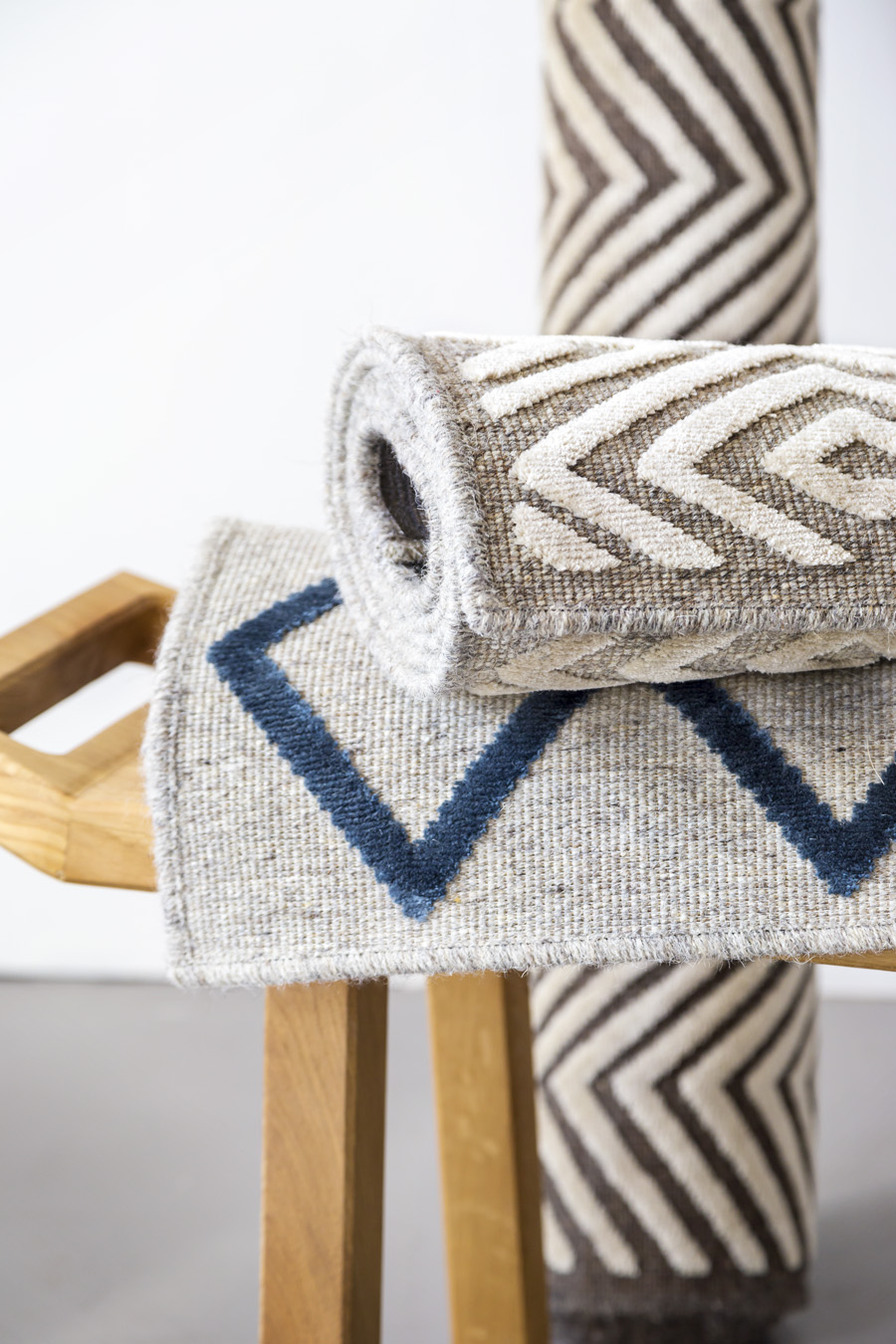 In the sitting room
Rugs in the sitting room help to visually separate this area from the dining room. As well as the aspects mentioned earlier, when you're looking for a rug for the living area you need to think about the size of the sofa. The ideal thing is for the rug to be 20 or 30 centimetres wider on each side.
Above, rugs from the Gancedo Geometric Collection, with geometrical patterns in shades of blue, beige and grey on a neutral background. They are available in two different sizes: 1.60 x 2.30 metres and 2 x 3 metres.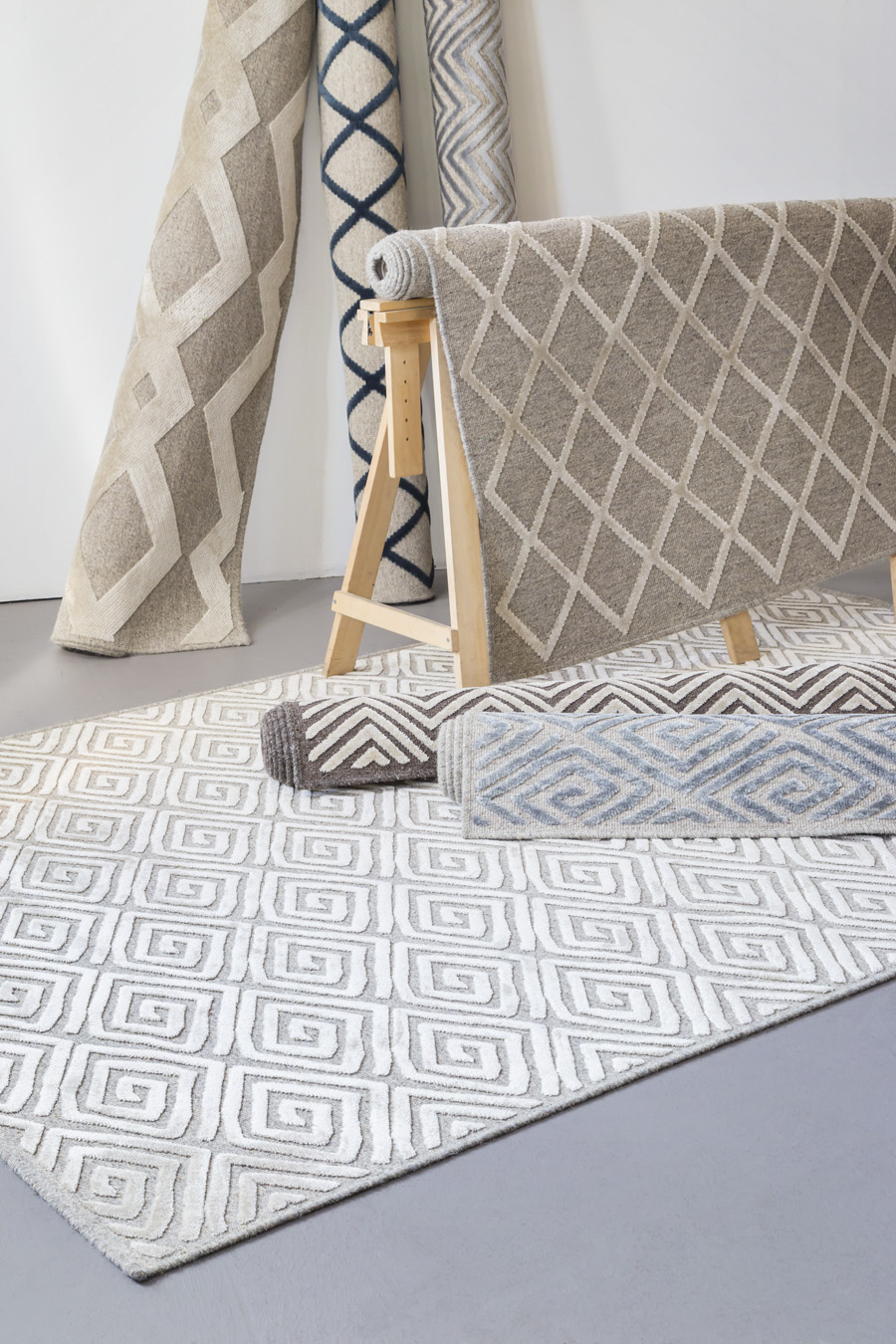 In the dining room
When the sitting and dining rooms share the same space, you could possibly choose two identical rugs or perhaps decide to make the one area stand out from the other by putting a different design in each.
When it comes to choosing a rug for the dining-room it's important to bear in mind that it must be big enough for the chairs to be easily be moved, without the legs jutting out. What's more, it must be hard-wearing and easy to clean, as this is an area liable to spillages. Next to these lines, rugs from the Gancedo Geometric Collection.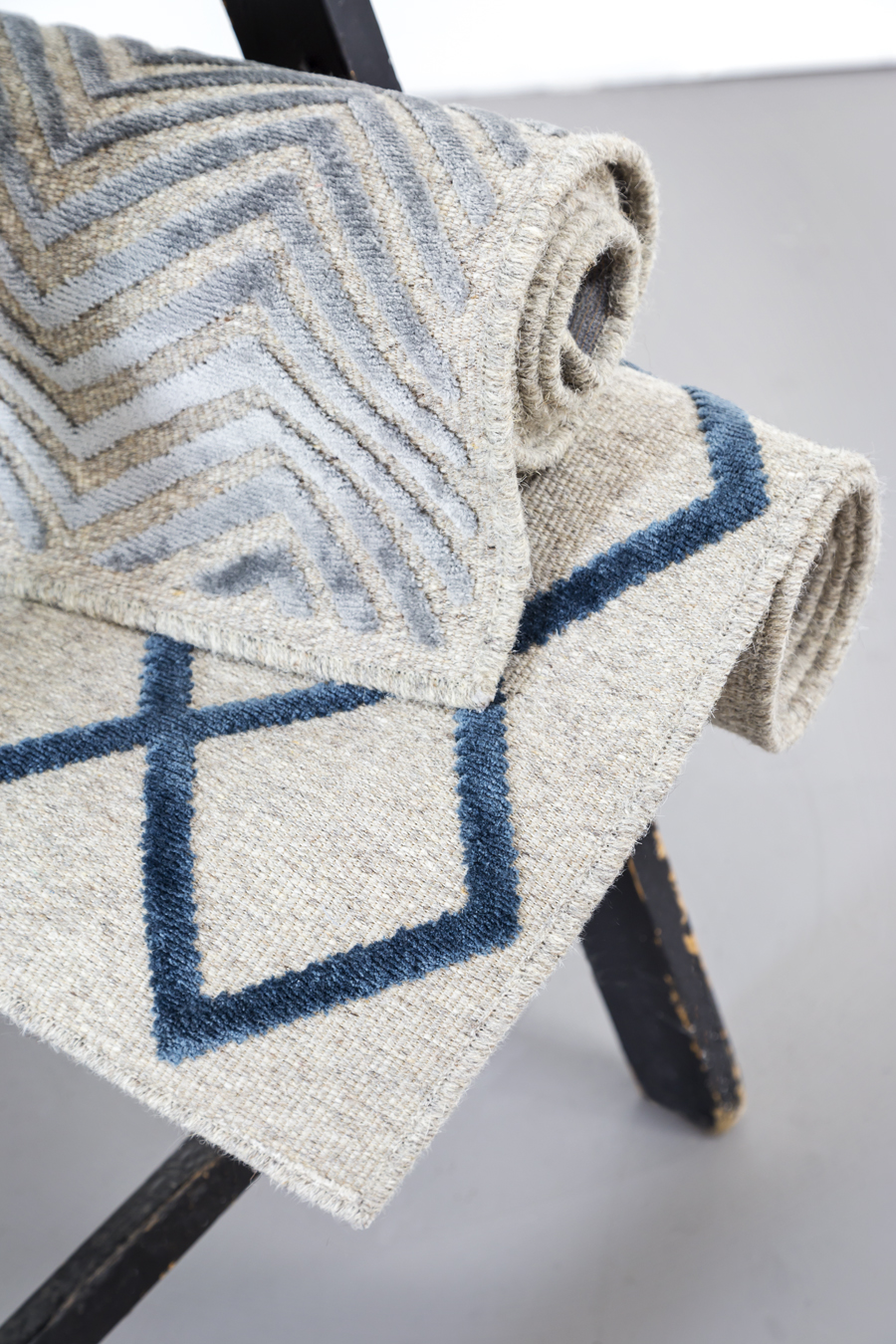 In the bedroom
This area needs a warm, soft floor, kind to bare feet. The Gancedo Geometric rugs are manufactured in wool and viscose, which gives them a lovely fresh feel.
The usual thing is to put two rectangular rugs on either side of the bed, although we could also go for one large rug covering all the rest area and just sticking out a few centimetres on either side.
Don't forget the doors! You must leave enough space for them to open easily.
As you can see, there are a number of factors to be borne in mind before choosing a rug. That's why, before choosing your design, the best idea is to drop into any of our stores where our team of professionals will be only too happy to advise you.