This spring, home décor shop windows are overflowing with green and pink fabrics, upholstery and accessories in shades ranging from soothing, muted pastels to bolder, more striking colours, the perfect foil for whites and ecrus. Although this fashion won't be a passing one, since these will continue to be the star colours during the coming 2019-2020 autumn-winter season.
At the recent Paris Deco OFF fair, Gancedo, always up-to-date with the latest trends in décor and interior design, launched its latest fabric collections, both those of the main brand as well as for HappyTEX by Gancedo. A large array of options, with patterns available in a wide range of shades, including, of course, pinks and greens which will dovetail with any decorating style.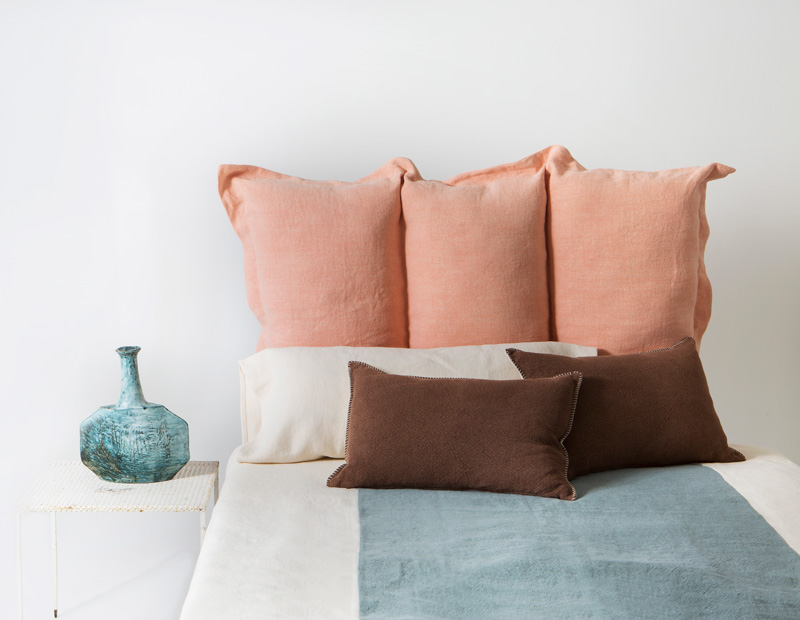 Creamy colours
Charming, gentle and soothing, soft shades never go out of fashion, and despite what many may think, they don't have to be twee or earmarked for girly decorating schemes. The secret is to use them with restraint and, above all, possess the knack of mixing and matching them.
Bearing this in mind, Gancedo has launched its Tramuntana II collection: pure linen, produced in 26 fashionable new colours, reassuring, soothing shades that recall the creaminess of a pistachio ice cream or the fleeting pleasure of pink candyfloss. Amongst the new shades are palettes of greens and pinks as well as yellows, blues, greys, browns…all of them stone-washed and totally on-trend. Tramuntana is a high-quality linen weighing one kilo per metre, which, thanks to its excellent drop, is perfect for curtains. This natural fibre, lovely to look at and pleasant to the touch, is also ideal for upholstery.
In the bedroom above, the Tramuntana II fabrics stand out against the white background, creating an extremely well-balanced, soothing effect. And it's clear that soft or stone-washed colours add a touch of romance without being "cloying", not to mention comfort, brightness and charm.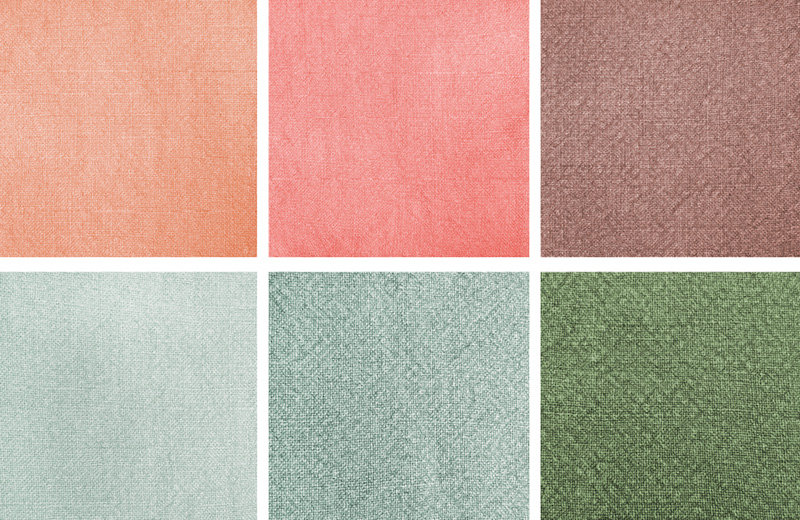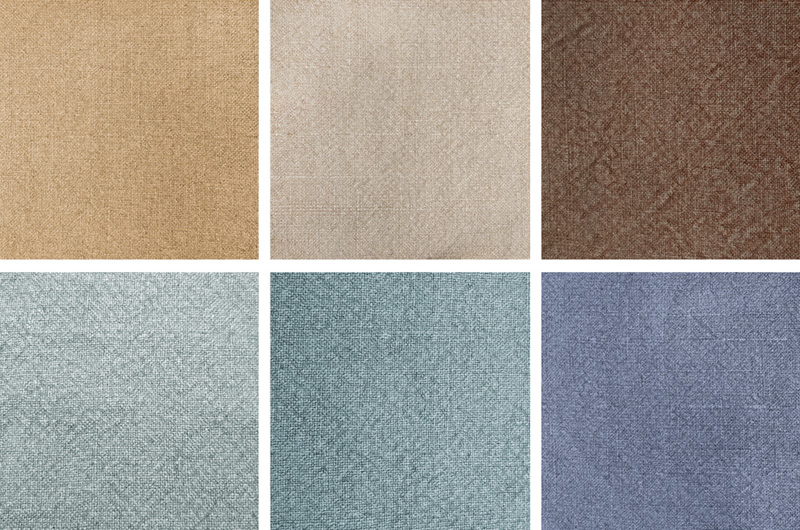 The Tramuntana II collection comes in tones that are bright, fresh and versatile and will suit any room in the house. Perfect for fostering a romantic, delicate look or atmosphere. If you mix and match them with whites, these soft tones will brighten up the room; in any areas where you wish to create a lively, cheerful atmosphere, nothing can beat combining them with matching colours and using some shades that are deeper than others. When you're trying to create a more tranquil atmosphere, nothing can beat using different shades of the same colour. You can clearly see how they add comfort, brightness and charm.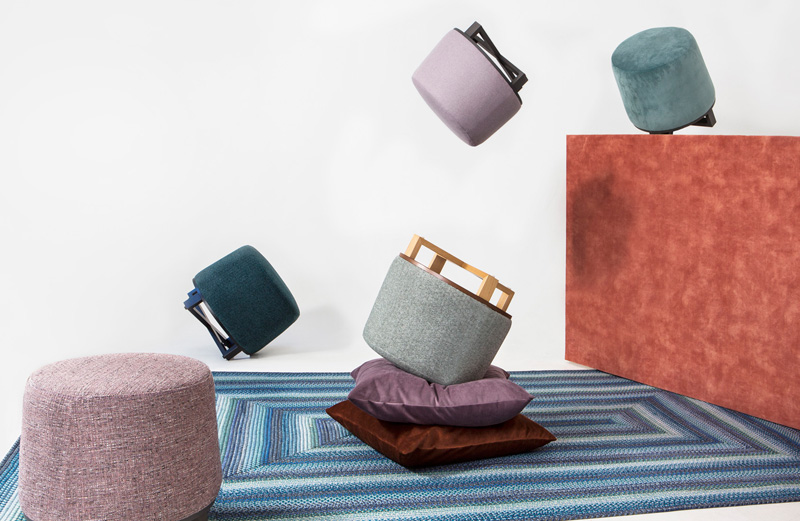 Tonal gradation in different textures
As you are undoubtedly already aware, whether the décor of a room comes across as plush and full of vim and vigour or bland and run-of-the-mill depends largely on the fabrics and upholstery. The ideal thing is to experiment with different textures as well as combining plains and patterns.
HappyTEX by Gancedo's Rubik collection comprises 5 lines of mock plains and textures, allowing multiple combinations within one colour palette, just like a Rubik cube. This is because you can find different fabrics such as velvet, chenille, Jacquard, tweeds, speckled cloths, waffles, meshes (thickly woven)…lending movement and depth to the fabric compositions.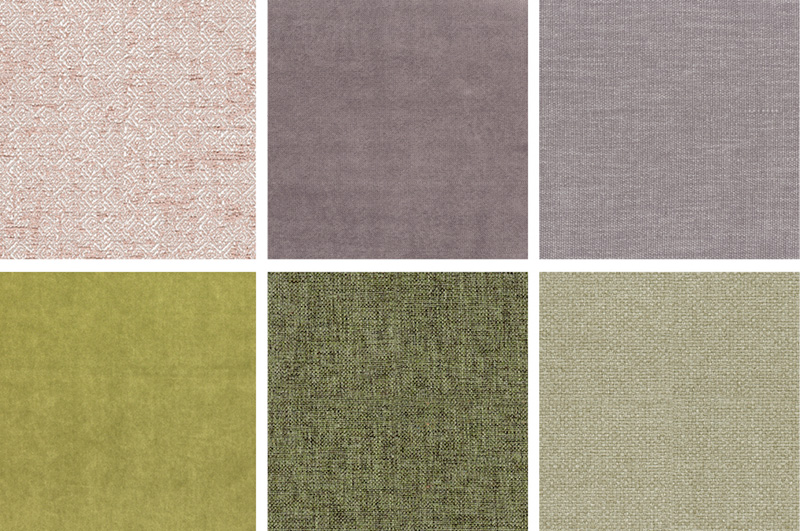 The combination of different shades of pink as well as various textures on armchairs, cushions, sheets and throws…will endow the room with elegance and grace.
For its part, green, the colour of nature, begets tranquillity and harmony. Depending on which shade you go for, you can achieve either a unique, individualistic effect or something more classic and understated. Pistachio, apple, avocado, olive, and forest greens…are shades which make it easy to create interiors which are distinctive and full of life.
Using on-trend prints
Geometrical prints are going to be seen everywhere on fabrics and household accessories, particularly in shades of green and pink, but they can also, of course, be found in other colour palettes. Many of them have an ethnic look, but there are also modern, contemporary patterns such as those in HappyTEX by Gancedo's FR Tesela collection. As you know, at Gancedo we opt for mixing and matching different prints, providing they share the same colour palette, and to add some zing to the final effect, the perfect solution is to combine them with plain fabrics, as well as with whites and ecrus.
FR Tesela from Happytex by Gancedo is a Scandinavian-inspired collection, fresh and full of life, comprising 3 printed geometrical patterns and a plain linen in 5 vintage colours. It brings together all the on-trend shades spotted at the most recent international interior design fairs, such as pinks and greens but also yellows, greys and blues. Coming in a flame-retardant polyester, pleasant to the touch, printed on a background material which is mock-linen, it is therefore washable. Available in a width of 2.80 metres, it's ideal for making up curtains, bedspreads, duvet covers, throws and is also suitable for upholstery. This is an extremely versatile collection, both for use in the home and in the catering and hotel sectors.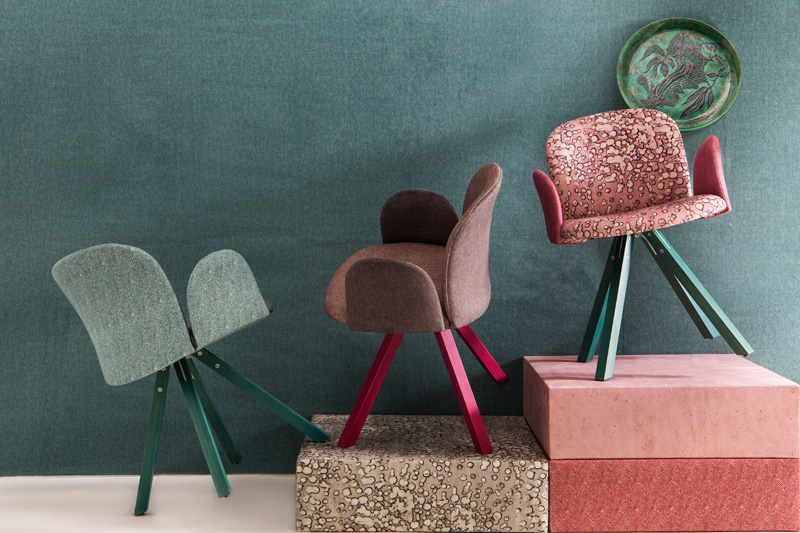 For modern decorating schemes
HappyTEX by Gancedo's Azor and Mirlo collections prove that pinks and greens are perfect for modern, contemporary environments. Owing to their versatility, these colours blend in well with many shades on the colour palette. With greys, deep blues, yellows, sands…each of them differently nuanced. However, there is no doubt at all that the very latest trend is to mix and match the two colours themselves, pink and green. In fact, green goes very well with red, since the latter is its complementary colour; that's why all permutations of red, such as pink, are the perfect partners for greens of any hue.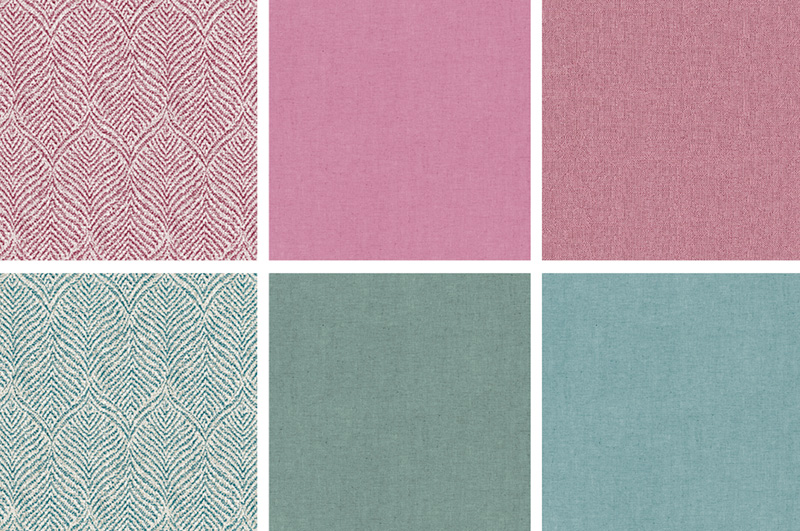 Azor from HappyTEX by Gancedo features a printed velvet in 100% polyester, comprising three different patterns: one simulates bird feathers, while the other two patterns echo the weft of thick and fine weaves. Flame-retardant, washable and hard-wearing, Azor is excellent for use in hotel and catering projects. What's more, each of the three patterns is available in an extensive array of colours, including not only pinks and greens, but also blues, coppers, yellows, greys, browns and beiges.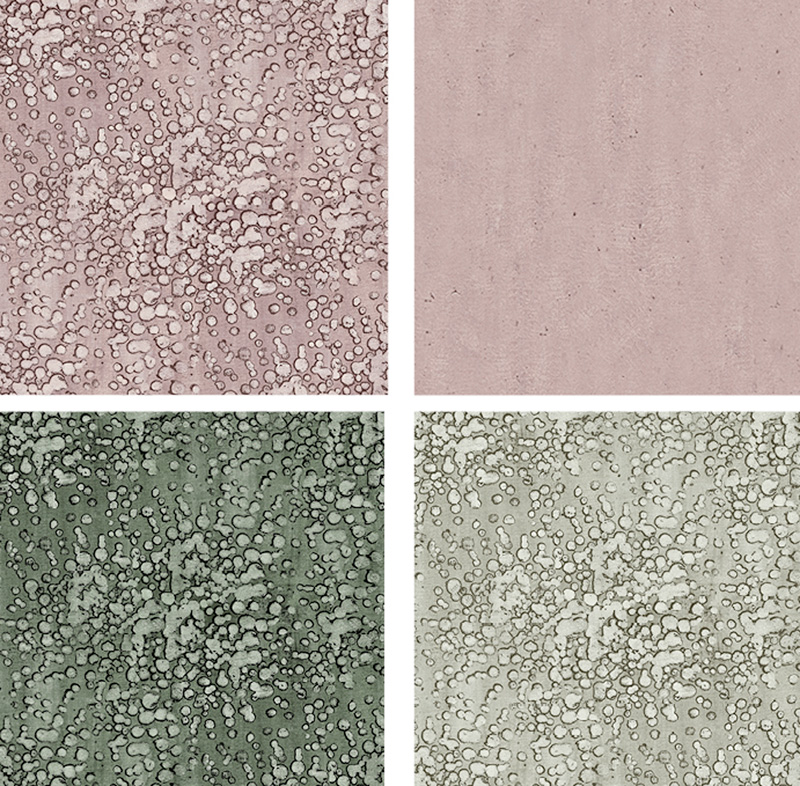 Mirlo from HappyTEX by Gancedo is a printed velvet in 100% polyester, washable, featuring a flame-retardant treatment that makes it perfect for Contract purposes. What's more, it's highly resistant to wear-and-tear. The main pattern takes its inspiration from a bird's eye view of the countryside, the abstract pattern lending depth to the fabric; the second is a mock-plain, the colour adding texture through random flecking. Its colours range from on-trend shades including pink, green and mustard, as well as aubergine and blue, to neutral tones such as beiges and greys.
Go on, get your home on-trend!