GANCEDO has joined forces with Madrid Design Festival with "GancedoEvolution by IED": IED-Madrid students on Masters' in Interior Design and Scenography and Exhibition Spaces have set up seven short-term installation projects at the fabric company's store at Velázquez 21, Madrid. Quite definitely, an explosion of colour, creativity and a new way of thinking about fabrics.
Taking the evolution of Gancedo as a starting-point and inspiration, each one of these short-term installations experiments with different ranges of colours. They will be on display until 30 March providing the finishing touch to this stage of the brand, which is planning to change location to a new setting at number 38 on the same street.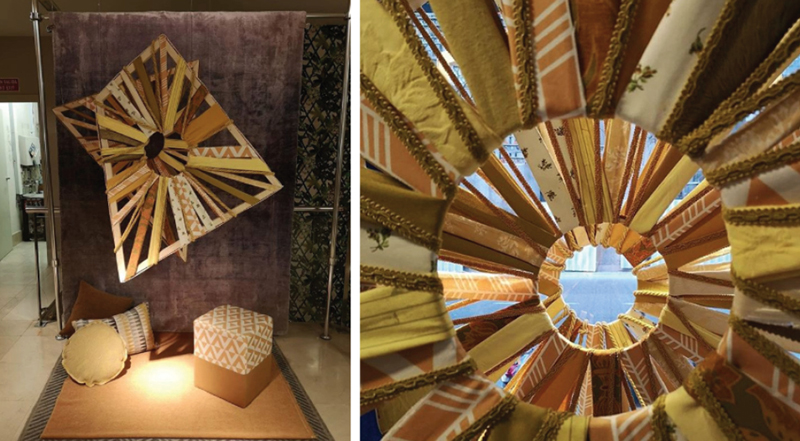 "A look back to the future"
The creators of this project are Isabella Machado, Ignacio Acebes, Irene Aguilar, Isabela Aguiar, Natalia Vázquez and Virginia Villalba.
"We are showing the pathway from the past, an evolution in time and the growth of the business including the current Gancedo generation, made up of five siblings. We are depicting family unity with the fabrics, capturing in them the past and the history of the place. The central panels show this pathway, which continues to burgeon. The tassels, just like a dreamcatcher's feathers, depict new horizons and the goals still to be achieved".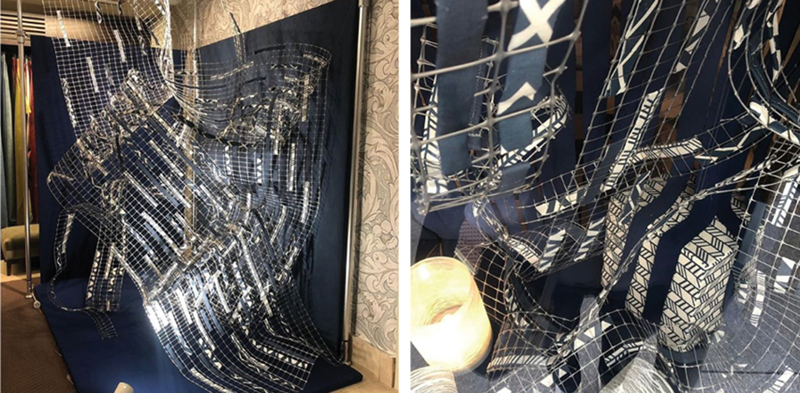 "Change as a driver of evolution"
By Andrea Ali Nieto, Carla Paredes, Diego Largo, Ana Isabel Pérez, Sofía Pinto Folicaldi and Gabriela Rivera.
"Over the years Gancedo has undergone transformations with a view to evolving, and these have taken place without relinquishing its essence and DNA. In keeping with this, the installation aims to reflect the newest and most recent change which Gancedo has opted for – transferring the store – a factor which will provide a new look and new opportunities to reach a new audience".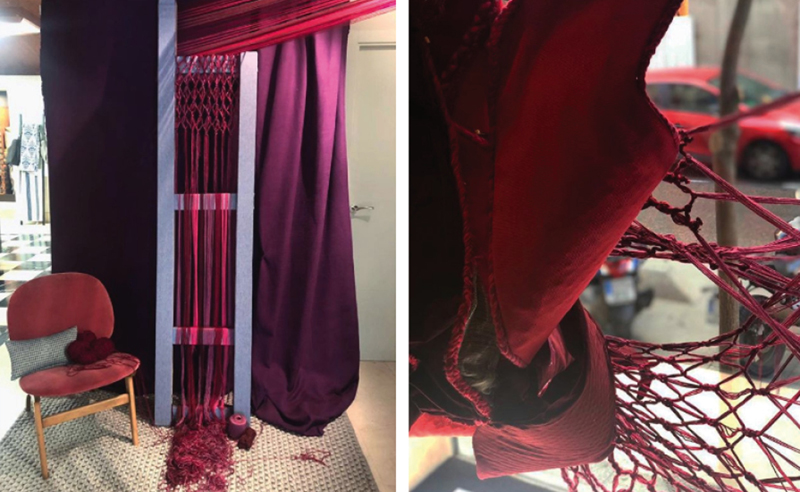 "Metamorphosis"
The creators of this project are Camila Troncoso, Zuzen Sáez, María Camila Sánchez, Andrea Montes, María Martínez and Adrián González.
"To us Gancedo means metamorphosis, because of its evolution, the changeover to a new future and the essence of the fabrics. We have tried to convey this transformation through the weaves, the yarns and the fabrics. To do this, we have created a "bud" which as it develops turns into a weave and with that into yarns, the beginning of everything, encapsulating an evolutionary atmosphere".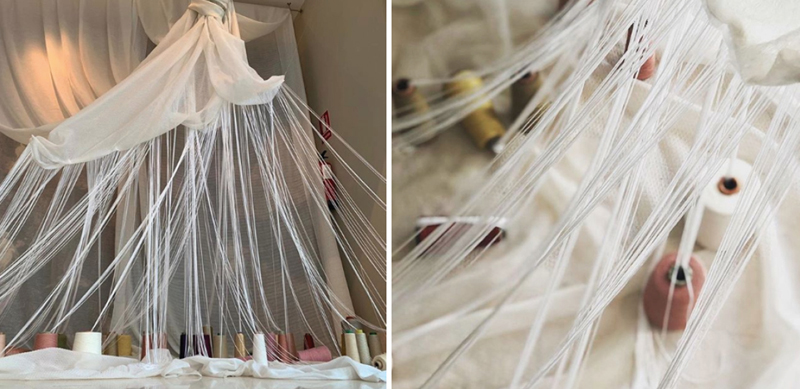 "The weaving of time"
This installation has been created and put together by Allice Bruni, Inés Ruiz de la Prada, Priscila Negrel, Adriana de la Torre, Vanesa Aguilar and María del Carmen Cuadra.
"Con motivo del cambio de tienda y consiguiente renovación, recordamos cómo surge una de las marcas de tejidos más emblemáticas de España: GANCEDO. A través de un viaje al origen de la firma proponemos una analogía entre tiempo y proceso. Para ello planteamos desde el inicio cada uno de los pasos en la fabricación y creación de una tela: hilo, urdimbre y trama, tejido".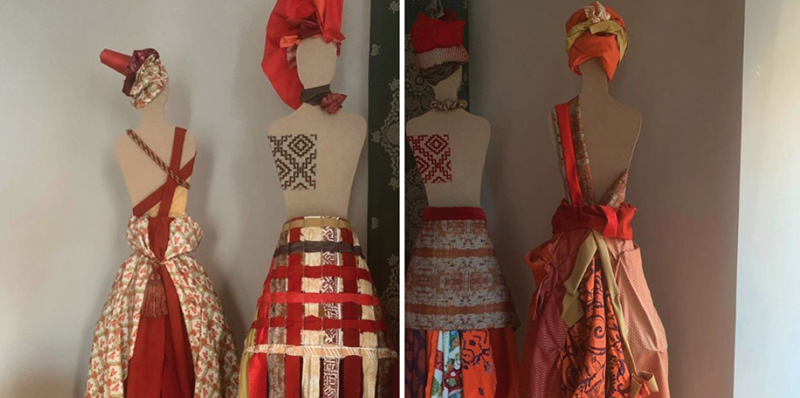 "The dance of the fabrics"
Lara Sanz, Omar Khattar, Natalia Saavedra, Augusto Sapaico and Aroa González are the students in charge of this Project.
"To give life to fabrics, so that they grow like nature itself and take their place. An interplay of fabrics, layering, interaction, change and movement are the ingredients for creating an installation and a living structure".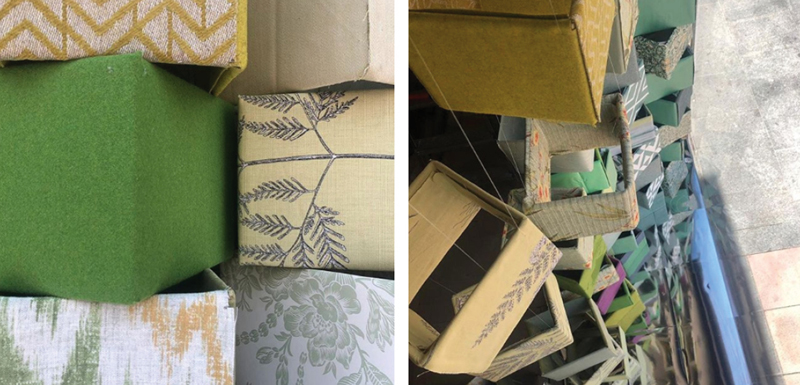 "[R}Evolution"
This installation was designed by Ana Bernabé, Dora Marshall, Cristina Vélez, Marina Novaes, Ana Cervantes and Elena Sánchez.
"The identity of the fabrics is emphasised by creating a rectangle which, as it is repeated, generates an interactive composition visually forming an abstract wall and experimenting with the evolution of colour and the deconstruction of the wall, tying this action into Gancedo's latest evolution".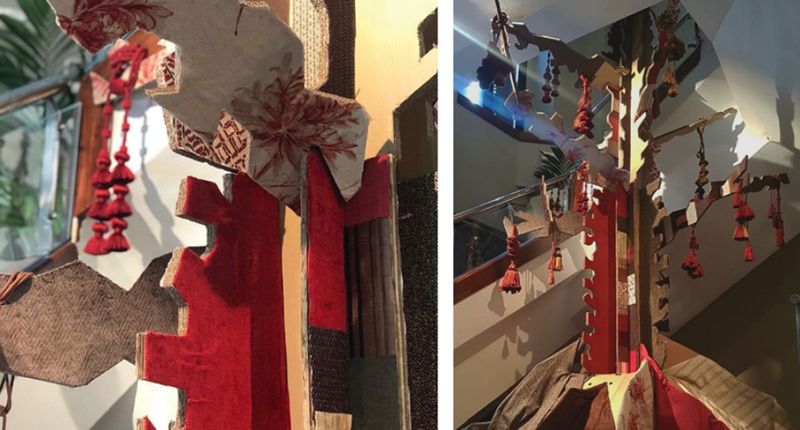 "Essence as balance"
And finally, the students María Rosa Paredes, Angel Roldan, Ariane Nogueira Harold Muñoz, María Alejandra Galvis and Carolina Marín came up with and executed this installation.
"In this installation we have worked to balance the two realities that enshrine the essence of Gancedo. On the one hand, the density and weight of tradition, memory and previous generations and on the other, risk-taking, freedom to innovate and the ever more obvious zeal for growth and freshness".
The exhibition will be on display at Gancedo's store, at Velázquez 21, until 30 March. Free entry until full capacity is reached. Don't miss it!
Photographs:  @iedmasterefimero.