As it does every year, the inauguration a few days ago of Casa Decor, the interior design and architecture exhibition, brings together the 'crème de la crème' of the world of design.  At this event, as well as revealing the latest trends in interior design and the most innovative materials on the market, the very best firms, both national and international, take the opportunity of presenting their new ideas and design solutions: from furniture and lighting to fabrics, upholstery and rugs. And it goes without saying that there are many interior designers who, year after year, choose Gancedo collections to adorn and lend individuality to their displays.
At Casa Decor 2017, a number of different decorators have chosen Gancedo fabrics, along with those of the firms we represent, such as Sanderson and Robert Allen. Manuel Espejo, Laura Gärna, Ignacio Alegría and Manuel Such, Blanca Hevia and Beatriz Cereco, Miriam Alía and Almudena Rebuelta Domecq have all given us a master class in how to use our fabrics and wallpapers. Here are all the details.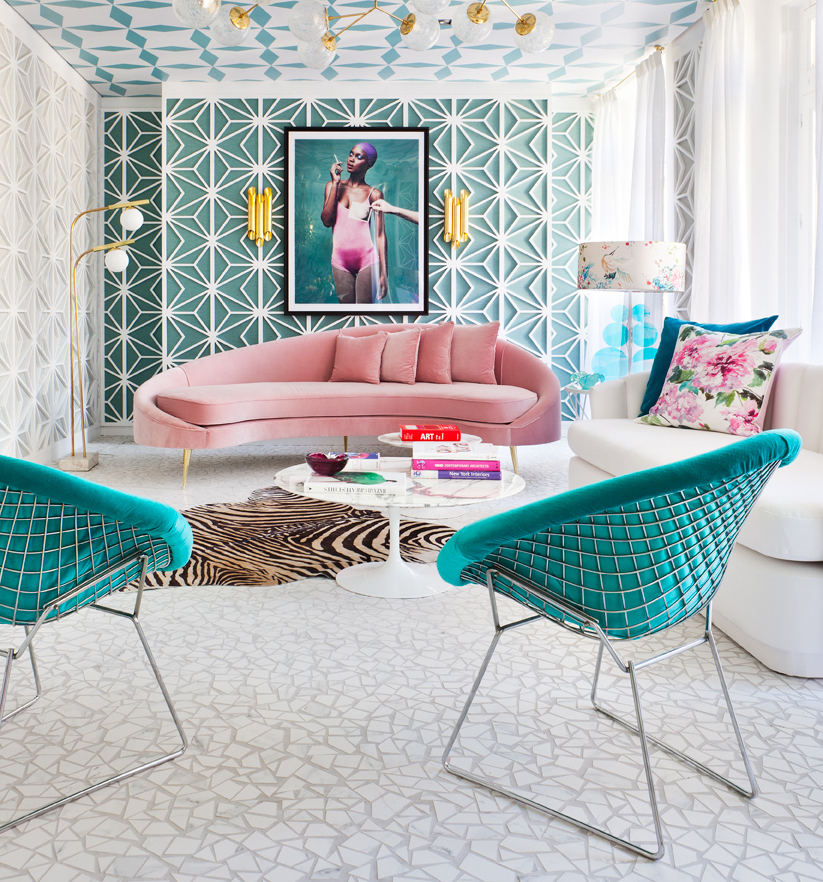 The Miriam Alía sitting room
The designer experimented with a range of white, turquoise, rose and golden tones to create a cool, extremely feminine display. Against a background of trencadis mosaic flooring, walls clad in fabric and white latticework, and a vinyl ceiling studded with blue diamond shapes, Gancedo's soft velvets, chosen to upholster both sofas – one in pink and the other in white – as well as the armchairs which delineate the living area, and the dining room chairs, strike a particularly effective note.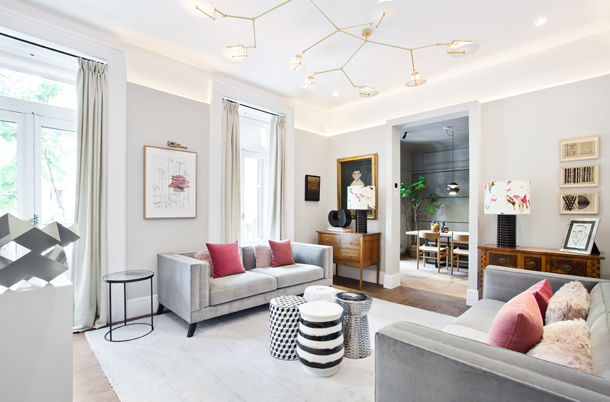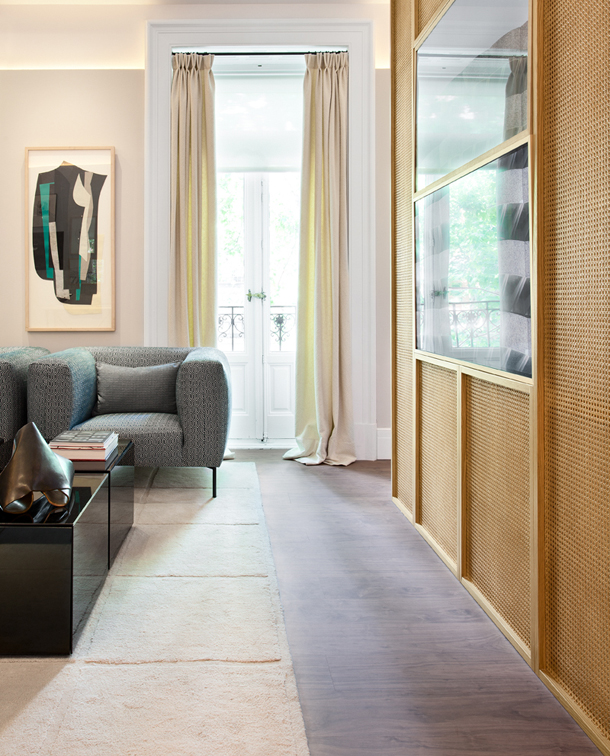 The Estudio Alegría concept
Ignacio Alegría and Manuel Such have created a double sitting room designed with a mature couple in mind, interested in design, aesthetics, the avant-garde, modern art and technology. One of them (the first) is Lily, an elegant feminine environment decorated in a range of pastel shades. In this case, the lampshades boast a print with colourful birds on a white background by Fabricut, an American brand distributed by Gancedo.
The second setting, Jake, features a more masculine range of shades, (greys, greens and blues). In this case the armchairs were upholstered in a Cotton Deco HappyTEX Collection pattern.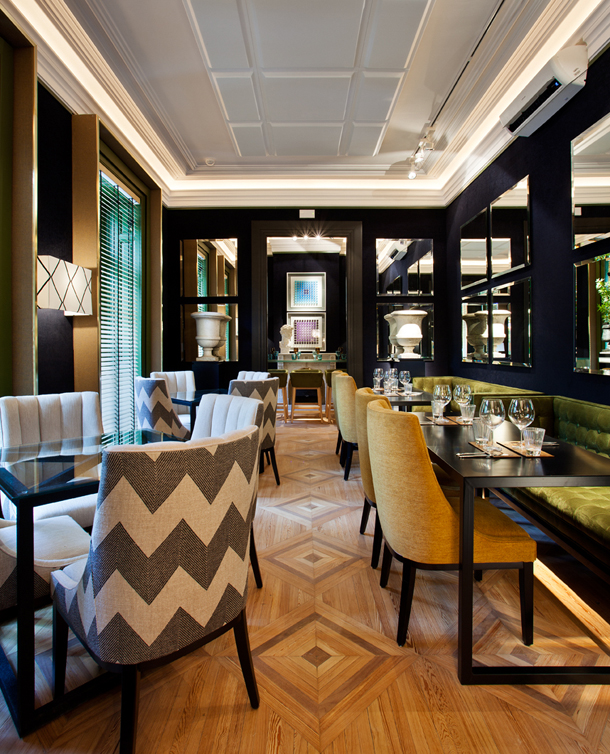 The Manuel Espejo restaurant
Dark shades of blue and green, enlivened with mustard accents, accentuate the colour gamut of 'Urban Blue', the restaurant designed by Manuel Espejo. All the furnishings were designed by the interior decorator, who also selected Gancedo, not only for the seating upholstery – designs from the Ethnic collection – but also to refurbish the walls in blue velvet.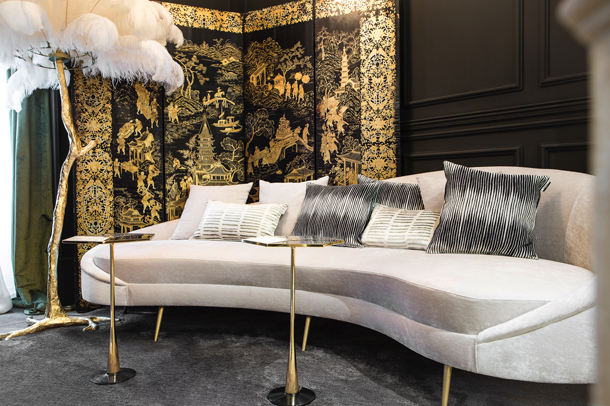 The Laura Gärna sitting room
Taking its inspiration from the Marchesa Casati, the Gärna studio created a sitting room with a vanity area, combining characteristic elements of the Belle Époque lifestyle with modern pieces and trends. To enhance the sitting room, Laura chose cushions made with fabrics by Robert Allen, the American firm for which Gancedo is the official distributor.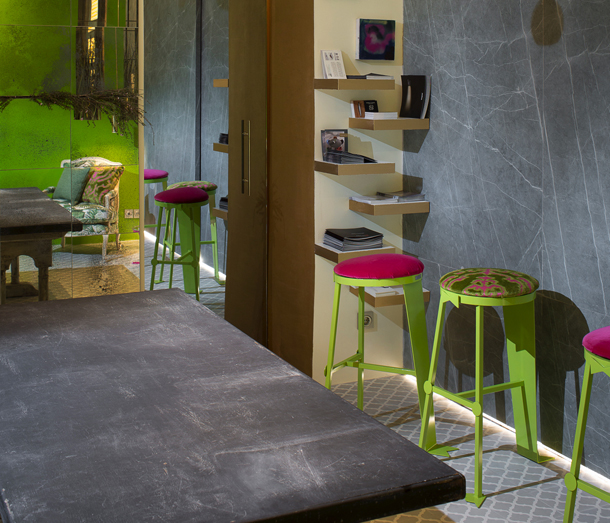 Blanca Hevia and Beatriz Cerezo
The exhibitors' mural at Casa Decor 2017 is yet another feature of the Exhibition. Blanca Hevia and Beatriz Cerezo opted for a tropical vibe, featuring shades of green and lime with accents of strawberry coloured velvet , by Gancedo.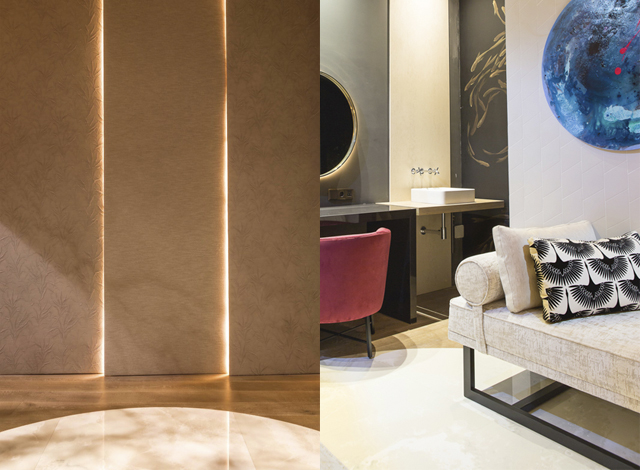 Almudena Rebuelta Domecq
The restrooms on the main floor are an Almudena Rebuelta design, providing a warm, natural yet plush atmosphere owing to the materials used, among them Tramuntana Collection upholstery by Gancedo. Definitely a winner!
If you haven't yet visited Casa Decor 2017 (Antonio Maura, 8) don't miss the chance to revel in the very latest in interior design and get to know some of our fabric collections at first hand.