The French antiquarian and interior designer Serge Castella has put his stamp on Gancedo's new collection: "Canigou", a compendium of fabrics comprising a highly varied assortment of textures, patterns and fabric types, in on-trend colours including green, pink and brown.
Serge has taken his inspiration from the flora and fauna of one of the most celebrated peaks in the Pyrenees, from its materials, its spirituality…conjuring up natural patterns such as forest leaves, eucalyptus and oak trees, deer antlers, and geometrical patterns inspired by antique ceramics. "I am a native of the Mediterranean, and I still live here…This is reflected in my way of thinking, of eating, of acting…" Serge tells us.
Exceedingly skilful when it comes to blending antique handcrafted pieces with twentieth century design, Serge Castella (Perpignan, 1965) has become one of the most sought-after interior designers of the day. Although he studied Fashion, meandering around the streets and flea markets of Paris, full of hidden treasures, along with his visits to the Louvre, lent even more impetus to his passion for art and antiques, a world which he had long enjoyed, and for the past fourteen years he has also focussed on interior design. In 2006, with his husband the architect Jason Flinn, he founded his own studio.
His home in the Ampurdan is a perfect reflection of his exquisite taste and his predilection for comfortable uncluttered luminous interiors, with only a few well-chosen pieces and works of art…"It's better to have one powerful piece, with its own identity, than a mishmash of all types of second hand items with no personality," he tells us. That is, the type of environment which oozes understated luxury, just like his sitting room, with its sofa decked out in padded covers and cushions made up in a cotton by Gancedo.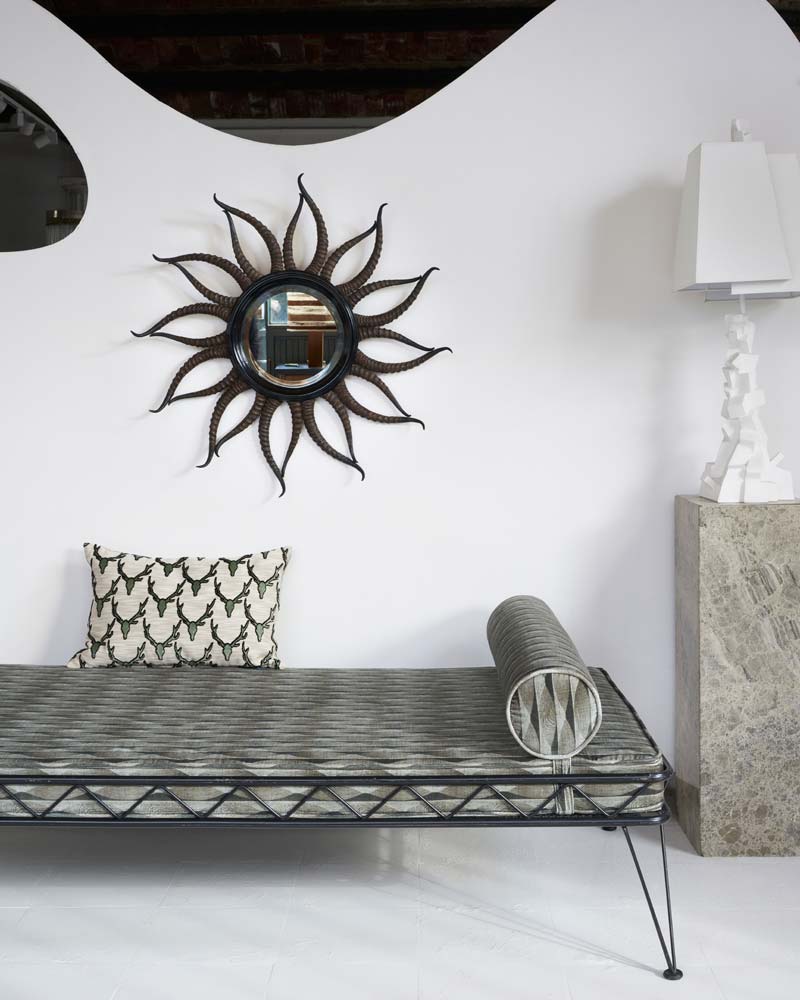 Joint Enterprise with Gancedo
The new collection designed for Gancedo by the French antiquarian and interior designer Serge Castella takes its name from one of the most celebrated peaks in the Pyerenees, Canigou, which has inspired songs and poems down the centuries and is deemed a "sacred mountain" by the inhabitants of the region; not for nothing are many monasteries to be found on its slopes.
Above, "Wood", the main pattern, recreates on velvet the texture of the wood found in mountain cabins.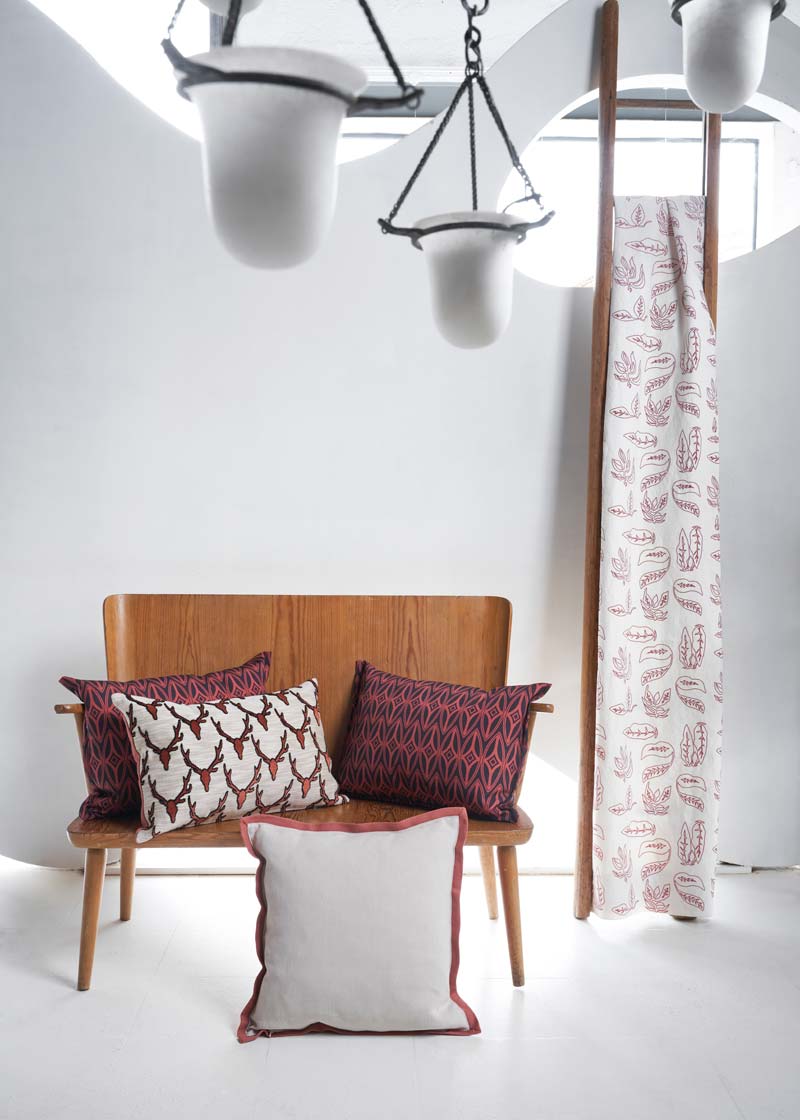 The designer has taken his inspiration from the flora and fauna of this mountain to come up with patterns such as "Leaves", printed on pure linen with sketches of woodland leaves, of eucalyptus, fig trees, oaks; "Deer", stag antlers in figured viscose velvet on a background of rustic linen; "Ciprés", the 1960s geometrical pattern, printed in three new colours and suitable for outdoor use.
The colour palette employed by Serge comprises browns and coppers, complemented by other more neutral shades. For backgrounds, the interior designer has opted for beige, ecru or linen.
In his interior design projects, Serge Castella does not reject any colour, rather, depending on the light and space available, he selects the colourway most suitable for the universe he wishes to create. As for fabrics, he has a liking for natural ones such as wool, cotton, silk and linen.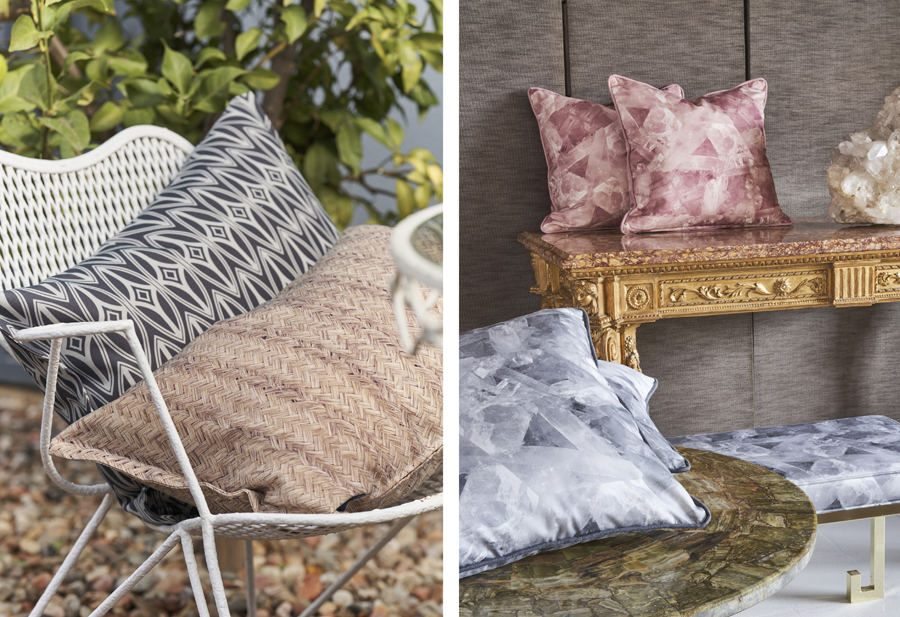 At the same time, the designer has a notable penchant for trompe l'oeil. For this reason, amongst the patterns in the collection you will find those imitating textures, such as the cotton satin print Quartz, with its quartz-like look, in grey or pink (on the right); and Esparto, one of the best-selling patterns in Serge's previous collection for Gancedo, cleverly simulating the said material (sparto grass), this time available in a more lifelike colour and suitable for outdoor use.
To sum up, the fabrics in the Canigou collection will suit all manner of decorating schemes. "These are multipurpose patterns, perfect not only for country cottages but also urban apartments anywhere in the world," states the designer.